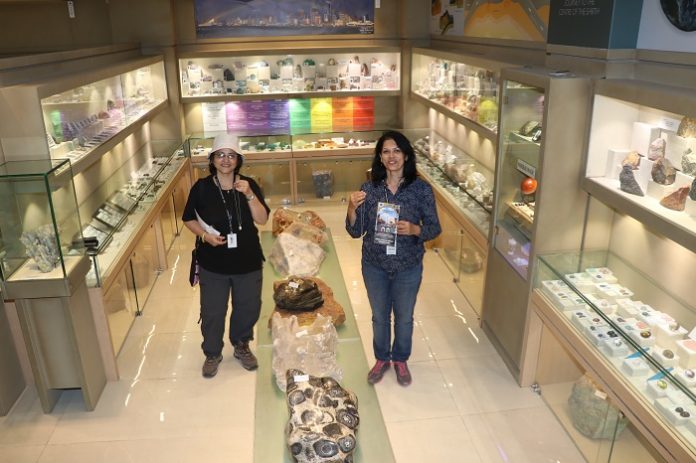 Think royal, think Rajasthan. And when royalty comes to mind, how can gems and jewels be far behind? Established in 2017, the Museum of Gem and Jewellery, right in the heart of Jaipur – the Pink city. Jaipur makes for a fascinating visit, both for the bedazzling collection and their sheer variety.
Jaipur has been a leading center for gems and jewellery in the country, and is globally known for its fine gem cutting and polishing, along with jewellery craftsmanship.
This museum shares "The Story of a Stone" – a creation of nature and "Making of Jewellery" – a creation of human mind i.e. from mining to manufacturing, a sojourn from minerals to their transformation into gems – to their conversion into jewellery has been displayed beautifully here.

About 60+ sections explain the journey of a stone from mine to fine-crafted jewellery. The journey begins from the entry itself, which graphically represents the process from mining to manufacturing, with the picture of old and new Johari Bazar- a dedicated street for the trade for over last 300 years, as the backdrop. On stepping inside, the world of gemstones welcomes the visitors, showcasing hundreds of types of rough as well as cut and polished stones, illustrating how nature creates its own art with various colours and designs. The display of the wide variety of colourful stones in their original forms and their finished products, including rare and newer stones, is definitely a learning experience.
The museum displays fossils of various kinds including dinosaur fossil. We are also displaying a rare stone called Csarite, which is found only in Turkey and nowhere else. Druzy pairs at the entry and near history walls adds to the class of the museum of gem and jewellery.
Visitors can delve deep into the history by looking at a picture of traders attending their first auction in Jaipur in the year 1948, along with the story of trade development scripted in a chronological order from 1727 with a running video. Checkout world's love for gems & jewellery in postcards and stamps here.
Another fascinating section is "Navgrahas"- the nine planets. The "Navratan" wall has nine idols with nine stones representing the nine-planets, blessing the visitors with peace and prosperity. Beads and carvings section illustrates another dimension of craftsmen's creativity.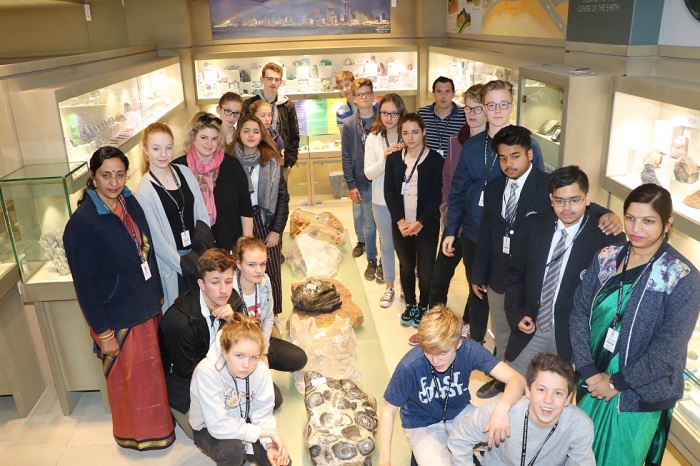 The museum displays Jaipur's pride – the exquisite 'kundan–meena' jewellery' embedded with coloured gemstones, kundan (pure gold), meena (enamel) and diamonds . Museum educates about the off-beat French-enamel, Victorian, Tanjore, Thewa and Fusion jewellery types. Next is gold and diamond jewellery set with precious stones beautifully exhibited followed by silver, fashion and costume jewellery. Visitors are wooed by the idea of creative jewellery made from materials like rope, leather, grass, clay, shell, plastic, watch parts, playing cards, stamps, blue pottery beads etc.
The museum, a joint effort of Indian Jewellers from New York and Jaipur traders, will be a source of education and inspiration for younger generations. A bigger and better museum with a permanent set-up is in view, which management describes as "knowledge center for gems and jewellery" instead of a museum. This bigger Museum will be in three story building where one floor will be dedicated for gemstones, one for jewellery and on the third floor, there will be the live demonstration of the complete process of  jewellery making. There will be a mini mining model as well to illustrate how mining is done.
This museum is one of its kinds, dedicated to Gem and Jewellery, which bespeak a story of an extra ordinary artistry, craftsmanship and passion of the trade. Museum of Gem and Jewellery is sure to boost tourism and trade in the city, and is indeed a valuable addition to the city's rich heritage adding colours to the Pink city.
News Source: mgjjaipur.com