he Pantone Spring 2017 Fashion Color Report serves as an overview of designers' color choices in new clothing collections. The colors are important for jewelers to know so they can help customers successfully color-block accessories. Here are five ways your peers suggest others color-block with Pantone's Pale Dogwood.
"Continuing the tranquil mood, Pale Dogwood is a quiet and peaceful pink shade that engenders an aura of innocence and purity. The unobtrusive Pale Dogwood is a subtle pink whose soft touch infuses a healthy glow." Pantone
Deeper pink hues against Pale Dogwood offer an analogous beauty.
"The Regalo cuff would look great against Pale Dogwood because it's a calm, warm color that invites a splash of more color. The warmth of rose gold in the Regalo cuff would complement Pale Dogwood garments, and the pink sapphire and tourmalines add a little burst of brightness." –GiGi Ferranti Jewelry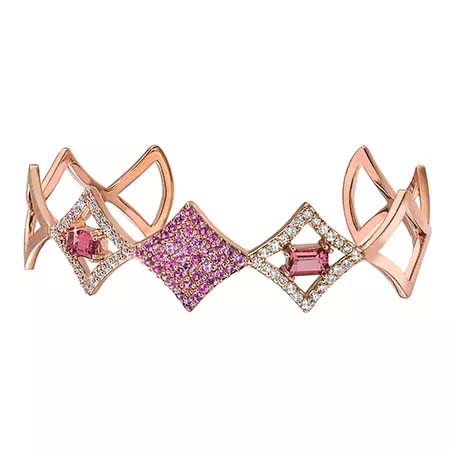 Regalo cuff in 14k rose gold with 0.85 ct. t.w. pink sapphires and 0.36 ct. t.w. pink tourmalines, $6,125
Darker shades will pop against the lightness of Pale Dogwood attire.
"Our Haute Hematite collection goes beautifully with Pale Dogwood because the rose gold frames pick up on the pinkish hues, while the hematite and quartz doublet serves as a stark and stunning contrast against." –Doves by Doron Paloma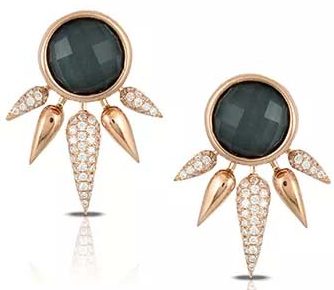 Studs and jackets in 18k rose gold with 6.44 cts. t.w. clear quartz over hematite and 0.34 ct. t.w. diamonds, $2,825
A monochromatic pink jewel will keep a Pale Dogwood ensemble soft and understated.
"The natural high luster of these soft pink pearls will add a subtle glam to the palette of Pale Dogwood." –Tiffany Peay Jewelry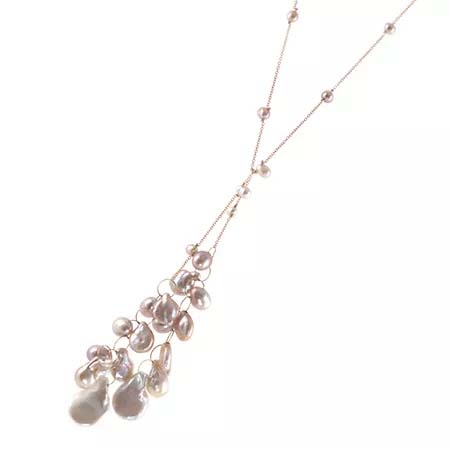 Lariat necklace in 14k pink gold with pink freshwater pearls, $1,395
High-karat yellow gold will stand out against the backdrop of a Pale Dogwood frock, while a warm-tone stone will enhance the rich-looking duo.
"The peach color of the topaz is a beautiful, bright, and slightly earthier color that complements Pale Dogwood without being too sweet." -Zaffiro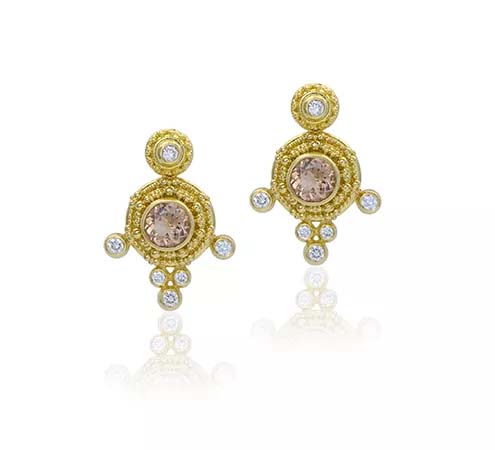 Dahlia convertible earrings in 18k and 22k gold with granulation, a 3.4 ct. peach-color topaz, and 0.71 ct. t.w. diamonds, $10,700
5. The contrast of rose and white gold offsets the softness of Pale Dogwood.
"This Criss Cross ring adds texture and dimension to the soft tones of Pantone's Pale Dogwood. The contrasting colors of 14k rose and white gold complements the overall aesthetic while making the combination slightly more edgy and eye-catching."  —Lauren Garvey, diamond & gemstone senior product manager, Stuller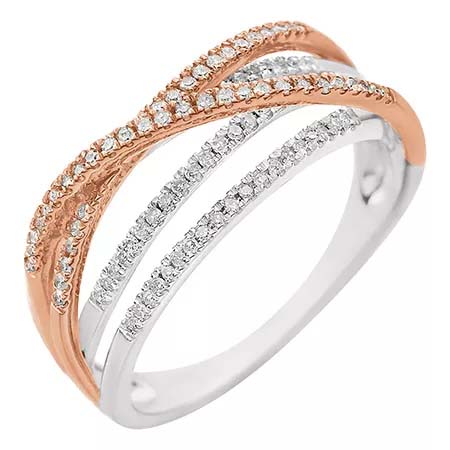 Criss Cross ring in 14k white and rose gold with 0.25 ct. t.w. diamonds, $1,221
The Style 360 blog is your editorial source for the newest jewelry, trends, fashion, market analysis, trade show insights, designer's profiles, and more.
New Source : JCKOnline.com