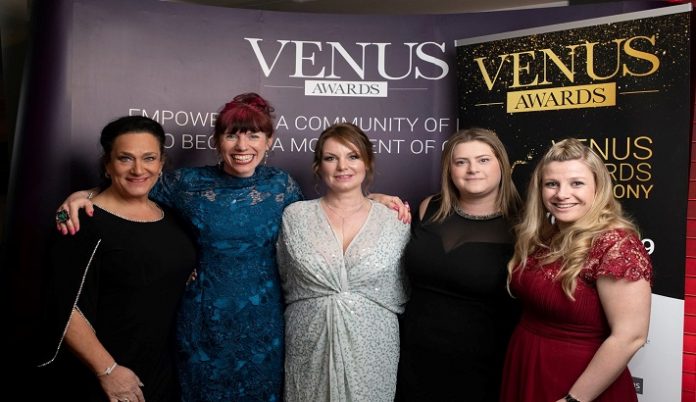 Plymouth independent jewellery retailer, Drakes, backed the Inspirational Woman's category at the 2019 Devon and Cornwall Venus Awards.
Winners were announced at St Mellion International Resort on Friday (March 29), where guests were treated to a 3-course meal and entertainment.
Labelled the 'working woman's Oscars' by Channel 4, the Venus Awards applaud and reward working women who deserve more recognition for the amazing things that they do.
With so many inspiring local women, Drakes has to narrow 75 nominations down to five semi-finalists, who were announced at an event in January.
After meeting all five of the semi-finalists, Drakes had to pick three finalists, which were then announced during an afternoon tea reception in February.
One person was then declared the winner on the night, with Alison Jordan, the founder of Pete's Dragons, a bereavement from suicide charity, walking home with the prize.
Drakes director, Jennifer Manning, comments: "We have absolutely loved being a sponsor of the Venus Women in Business Devon and Cornwall Awards for 2019. Right through from the launch of the awards last year to the final event, we have been in awe of just how many incredible women surround us in our local communities. Sponsoring the Inspirational Woman category gave us the chance to meet so many amazing women who all deserve to win in their own way.
"The Awards Ceremony was the perfect evening to celebrate all the successes and achievements of these fantastic woman, we only wish we could have picked all three of our finalists to win! All of us at Drakes felt incredibly moved by how Alison had turned such a tragic life event into something that continues to spread positivity and support. Congratulations to all the winners!"
Alison Jordan is a truly deserving winner who has turned a personal tragedy into something that offers help to others in a similar situation.
Jordan says she hopes that winning the award would bring more attention and recognition to the charity meaning that those who are in need of a bereavement service but have not heard of Pete's Dragons are more likely to know about it and get the help they need.
NewsSource:  professionaljeweller