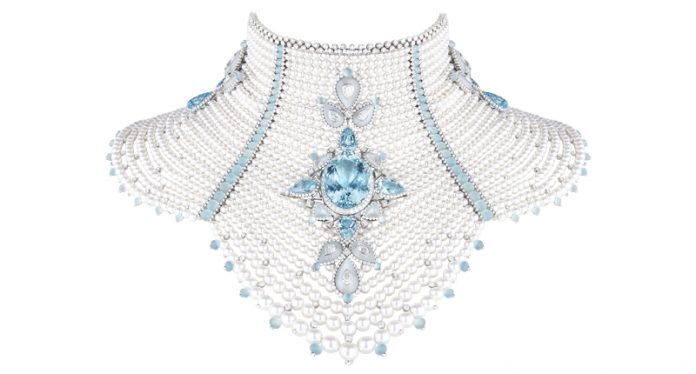 Paris–In the second part of a two-part series, National Jeweler explores the latest haute joaillerie presented last week in Paris in conjunction with couture week.
Dior's jewelry designer, Victoire de Castellane, revisited "Versailles" with the second installment of the collection first introduced last summer.
Whereas last year's offerings were an ode to the palace's baroque architecture and décor, this year's iteration was a love letter to its gardens.
Spectacular gemstone color combinations lent the collection a vibrant palette and contagious whimsy, which was all the more striking when combined with the pieces' strong geometric lines, meant to reference the gardens' bold landscaping.
Dior's Hameau de la Reine Diamante ring is rendered in yellow, white and pink gold and adorned with diamonds, tsavorite, demantoid garnets, sapphires, tourmaline and lacquer.
David Yurman took a more wearable approach to color, setting large colored gemstones like rubellite and peridot against a background of neutral white diamonds and white gold or platinum. Much of the interest in the pieces was in the bold, architectural designs of the settings.
The American design house also showed pieces from its Night Petals collection, inspired by flowers seen in the moonlight and high jewelry versions of its pearl pieces and Stax collection.
David Yurman's high jewelry Twist ring in platinum with an 8.93-carat rubellite and 1.22 carats of white diamonds
According to Boucheron, the brand was the first French jeweler to open a store in Moscow, in 1897. Their high jewelry offerings, called Hiver Imperial, or Imperial Winter, referenced these beginnings.
White gold, diamonds, mother-of-pearl and rock crystal formed ice and snowflakes, while accents of pearl, aquamarine and tanzanite further enhanced the collection's romantic, wintry feel.
Boucheron's Baikal necklace in white gold set with a 78.33-carat Santa Maria oval aquamarine, moonstones, cultured pearls, diamonds and aquamarines
New York-based designer Anna Hu creates nature-inspired pieces more dazzling than their real-life counterparts.
In Paris, the designer showed elaborate designs that often were anchored around one prominent gemstone, such as a sugarloaf tanzanite or cabochon emerald.
Anna Hu's Athena Siren Aria Brooch in titanium with 102.15-carat sugarloaf tanzanite, sapphires, tourmaline, moonstones, peridot, emeralds and diamonds
Ahead of Nirav Modi's return to Biennale des Antiquaires in Paris this September, the Indian jewelry house previewed some of its new pieces at haute couture/haute joaillerie week.
On display were suites featuring the exquisite gemstones Modi is known for employing in his work, as well as some of his patented diamond cuts. A 20.87-carat pear-shaped fancy yellow diamond ring was not to be missed.
Nirav Modi's Soleil ring features a 20.87-carat pear-shaped fancy yellow diamond and is surrounded by fancy intense pink diamonds and Modi's patented Jasmine-cut diamonds.
Giampiero Bodino's new high jewels referenced the vibrancy of the Italian Mediterranean coast.
Bodino envisions his colorful, gem-stone laden pieces worn casually rather than reserved only for formal events, which is why several of the pieces are convertible, becoming more or less impactful depending on how they are styled.
Giampiero Bodino's Barocco earrings in pink gold with two rubellites totaling 25.30 carats, amethyst, yellow beryl and diamonds
News Source: http://www.nationaljeweler.com