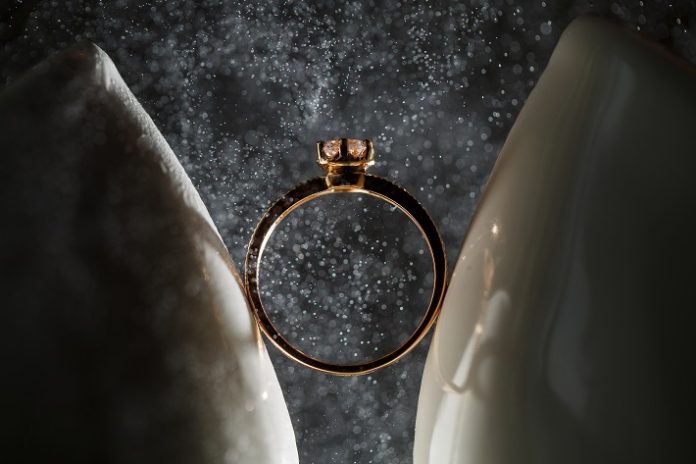 (Hong Kong, September 2022) Love words don't always have to be beauteous speeches, it might well be easier to touch her heart with the simplest vow- "I love you" if one picks the right ring and the way to present it. Psoui introduces a series of moissanite rings in 3 respective collections. The brilliance moissanite ring allows true romance to transform confession into an ever-lasting love token. What's more exciting to the world is the NFT series, which is a unique collection featuring the romantic love story as its design motif. Created with exquisite settings and impeccable craftsmanship, the selection of moissanite rings embody the brilliance of a life-long promise. 
"Being a wedding planner, I've seen people being frightened by the wedding planning process, they have no idea on where to start or how to start. I want people to be able to have a meaningful wedding, to kick start their new page in life in a special, memorable way." says Kyo, owner of Psoui, a versatile young man with an energetic character. "Every letter in PSOUI has a meaning, like every ring created by Psoui has its own story. P stands for please, S stands for say, OUI means yes in French." Kyo hopes to help every romantic love pursuer to win the love of their life with Psoui's rings.
Ground-Breaking NFT Engagement Ring 
World's limited edition, applied Cryptocurrency – Non-Fungible Token (as in NFT), products in this collection are sold in a set including both digital encrypted design from Psoui and the merchandise per se. Psoui promises that each design from the NFT collection will be distinctive and priceless, where the love story of one and one's love will be kept in Psoui forever. 
Guests who purchase the NFT ring will expect a set of unduplicated double-encrypted NFT ring set, which is worth over USD$5 million approximately, (price will be calculated in crypto currency), the set includes: 
NFT Assets: Initial drawings of ring designs by jewelry designers from around the world, NFT image created by the founder of Psoui; 
Engraved Ring: The ring will be engraved with an encrypted serial number (arranged in a special way) on the interior side of the ring, and the ring will be delivered by the Psoui specialist in person across the country. 
The Proposal: Assist NFT holders with on-site filming, post-production of their single courtship / proposal and document it publicly or in other formats on Psoui's website. 
To learn more about our NFT ring series, please have a look at our video: 
The Very First NFT Ring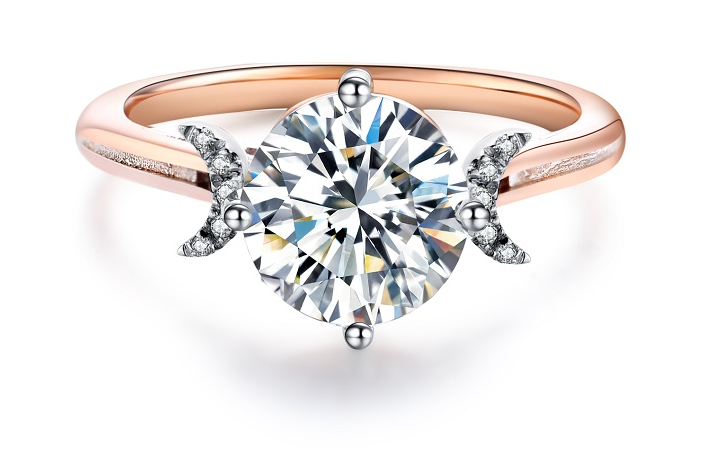 As the pioneer of the jewelry industry, Psoui is proud to introduce the first NFT ring to revolutionize the market. The touching love story behind the ring adds to the enduring vow of "I Love You" a mirage of light and illuminating the vitality of love among loving pairs. 
Designed and created by an Indian jewelry designer, the first NFT ring TriGod is inspired by a mythic story – 
TriGod is a Deity of Earth in many religious and spiritual traditions who is viewed as a triunity of three distinct aspects or figures united in one being. These three figures are often described as the Maiden, the Mother, and the Crone, each of which symbolises both a separate stage in the female life cycle and a phase of the Moon, namely waxing, full moon, and waning. 
TriGod represents the female's most crucial 3 phases of life. First met under the waxing moon, the girl, who has not yet awakened. She is all about enchantment and innocence, youthful ideas and enthusiasm. When she first meets her first love, she has an ardent yearning for a vigorous love and the love of her life. Falling in love under the full moon, the woman is fertility and fecundity, abundance and growth. She craves for safety and security, a stable life and her own baby. She then devotes herself with heart and soul to take care of her family and protects her dearest love. Keeping each other company under the waning moon, the old lady has come through all the ups and downs in life, the gaining of knowledge. She has seen through the vanity of life, satisfied and happy.
The ring represents the man's determination to spend the rest of his life with his loved ones. No matter what stage of life she's in, he will still love her like the beginning. Other than the three forms of the moon, the infinity symbol "∞" next to the prongs represents the everlasting love between the couple, forever and ever. 
"Thank you for adding colours and bringing vitality to my life when the moon was waxing, changing my point of views towards life. Thank you for taking my hand when the moon was full, sacrificing many dreams of yours, taking care of our family, letting me strive for our future with no worry. Thank you for staying when the moon was waning, letting me love and protect you. May our love stay forever and always." 
Please say oui. 
Ring Specification 
Main Stone: Forever One™ Moissanite
Metal Type: 18K Rose Gold with 18K White Gold Electroplating
Side Stone: Diamond 
To Order 
Click "Start the Process" on the Psoui website and follow the instruction shown on the website 

Applicants will need to fill in a survey 

Then, applicants will fill in a form about the details of their proposal plan 4. Applicants will have to complete a one-time pre-authorisation of US$950,000 to pass the identity verification process, no fees will be charged at this stage by Psoui. The authorisation is granted by the applicant's issuing bank and the credit limit for that amount is temporarily frozen. 

Psoui team will follow-up within 6-12 days upon receiving the enquiry 

Psoui will go through a rigorous selection process to choose the sole owner of each NFT collection design 
Not every participant who successfully registers and completes the US$950,000 pre-authorization verification will receive a follow-up response from Psoui. The one-time pre-authorisation is required to pass the identity verification process, no fees will be charged at this stage by Psoui. This authorisation is granted by the issuing bank and the credit limit for that amount is temporarily frozen. Only the sole qualifier who eventually passes the screening will have USD$200,000 of the pre-authorisation fund deducted as a deposit and officially charged after obtaining their consent via email. The deposit is non-refundable once charged.
Afterwards, the selected guest will have to settle the balance with crypto currencies, such as Ethereum, once being selected as the owner of the NFT engagement ring. The payment will be conducted through a third-party platform. 
Unsuccessful applicants will not be charged, the temporarily frozen amount will be released from the credit card. 
Other Products 
Apart from our NFT collection, Psoui also specialises in the sale of luxury rings crafted with Forever One TM Moissanite Stones from Charles & Colvard. Find a stunning assortment of Moissanite Stones in the three collections – Everlasting Love, Promise and Heavenly Romance. Each ring carries a touching love story for guests to charm their love – an ode to the specially designed jewelry legacy. 
[Everlasting Love]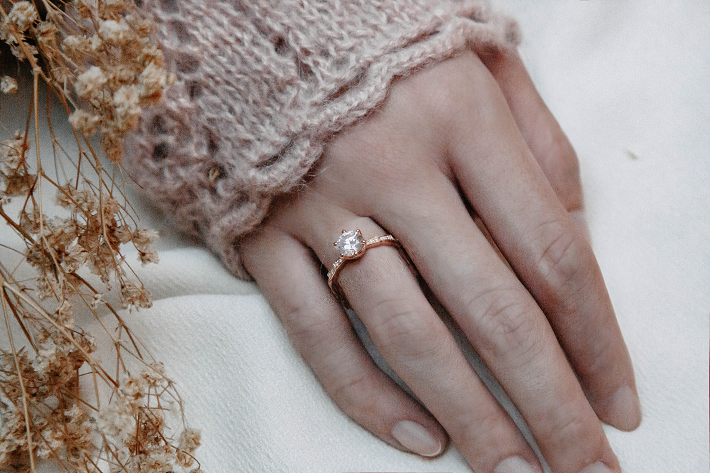 Each flower carries its language of the flower. Psoui's Everlasting Love Collection selected the language of the flower as the theme, creating 5 classic designs for you. Someday, flowers wither, but rings from the Everlasting Love Collection are transformed into eternal blooming flowers on the fingertips, each ring inspired by different flowers is a flower, with various languages of flower, allowing you to show your feelings to the love of your life in the most sincere way, make the promise of one life, one soul. Memories fade, but not emotions. 
[Promise]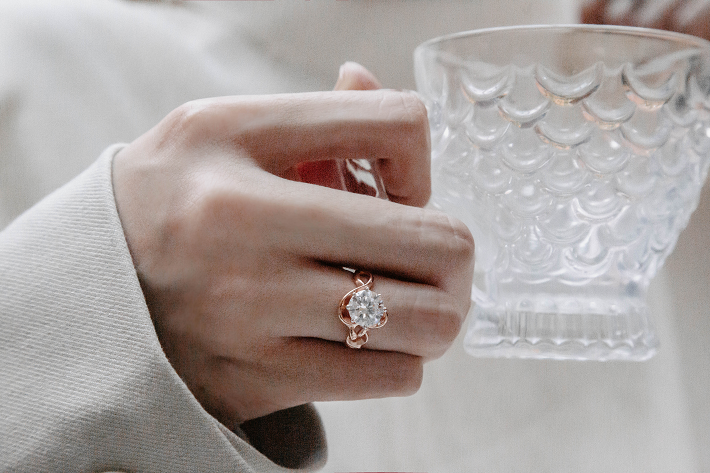 Marriage is a life-long commitment, it represents a promise made between couples who are deeply in love and want to spend the rest of their lives together. It is unbreakable and irreversible. Psoui's Promise Collection is your best option to show your beloved one the determination you have to keep the most mesmerizing promise that you are going to make in your lifetime. Each ring is designed by our gifted designer and custom-made by the most delicate craftsmen. Each and every ring carries different promises awaiting to be kept. The Promise Collection includes 7 stories ending up with a promise that the storyteller is going to make. 
[Heavenly Romance]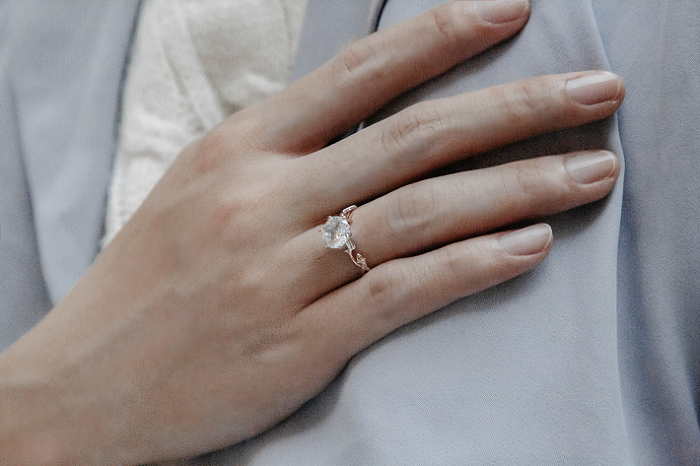 The ring designs of the Everlasting Romance Collection are inspired by stories of the Greek Gods. Sweet relationships bring everlasting romance sparked by the love between the Gods. The
ingenious style of the rings is consistent with the unique design theme, which brings a mysterious sense. The collection is definitely suitable for you who values meanings and sensations. 
About Us 
P stands for "please"
S stands for "say"
OUI means "yes" in French 
Psoui, a company set up in 2022 by Kyo Kung, is a company that specializes in luxury rings solutions – not only does Psoui sell luxury rings, but also create touching love stories and help customers realize their dreams and execute their romantic yet weird ideas in mind. 
NFT engagement ring is an unprecedented idea created by Psoui – a revolutionary one-stop service that targets bold explorers all over the world who want to make the sweetest vow to confess their love with Psoui's limited edition NFT engagement ring – a ring that combines elements of realness and digital art, establishing a unique and priceless proposal experience. 
Psoui believe that marriage is a life-long commitment and responsibility, a process when two individual souls come together, fall in love, and at the end walk alongside each other for the rest of their lives. Psoui's luxury rings illustrate the first chapter of marriage. "Ps" represents "Please say", meaning sincere proposals and wishes; "oui" means "Yes" in French, representing willingness and vows. Psoui's rings do not simply symbolize a lifetime's commitment to the love of one's life, but also create countless inspiring love stories through exquisite workmanship and meticulous designs. 
About the Founder 
Having a full vision of the wedding industry in his early age, Kyo had his heart set on bringing happiness and unforgettable weddings to every couple. 
In 2014, he founded iMade Wedding and Event Production Limited, a wedding company specializing in venue design, wedding planning, floral and peripheral products, and has since completed unique weddings for over 1,000 couples. He has been the core of the design team since its establishment in Hong Kong. Through his personal involvement in the concept design of each wedding and the trust of each couple, he has been able to establish a steady presence in the wedding industry in Hong Kong.
In 2020, Kyo was invited by his peers in Malaysia to represent Hong Kong at the International Wedding Summit in June to support couples-to-be amid the pandemic. Kyo is well-versed with the wedding operation and committed to promoting education in the wedding industry. Having worked as a lecturer at the Hong Kong Design Institute and Metropolitan University of Hong Kong (formerly Open University of Hong Kong) since 2017, Kyo is dedicated to nurturing the next generation of wedding talents. In 2019, he was the first 'Wedding Navigator' in Hong Kong to offer online wedding planning advice to prospective couples.