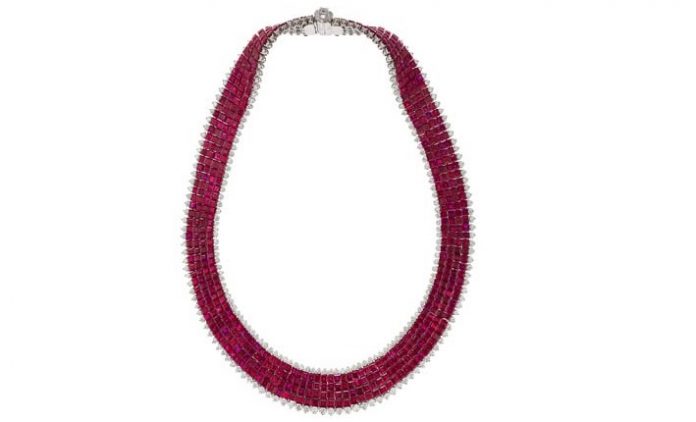 Gem lovers who were up early this past Sunday got a rare, and red, treat.
"CBS Sunday Morning" aired a nearly-four-minute segment on the history and allure of rubies, the red gem that evokes romance and luxury.
Jane Pauley introduced "A Real Gem" while standing in front of a suite of ruby jewelry from Oscar Heyman and telling viewers that the gem is "perfect for Valentine's Day."
The segment opens with—who else? —jewelry lover Elizabeth Taylor in the Cartier ruby and diamond parure given to her by third husband Mike Todd.
It goes on to mention composer Irving Berlin, who bought wife Ellen a ruby ring to celebrate their 40th anniversary and, of course, could not exclude the most expensive ruby of all time—the 25.59-carat "Sunrise Ruby." The Burmese gemstone sold for $30.3 million at Sotheby's Geneva in May 2015.
"If you look at a top quality, gem-quality ruby versus the top quality of a diamond—let's say they're 5 carats each—the ruby is going to be much rarer and much more expensive than that top-quality diamond because they're much harder to find," Christie's Daphne Lingon told journalist while showing her several pieces, including a ruby-set Van Cleef & Arpels zipper necklace.
NewsSource: nationaljeweler