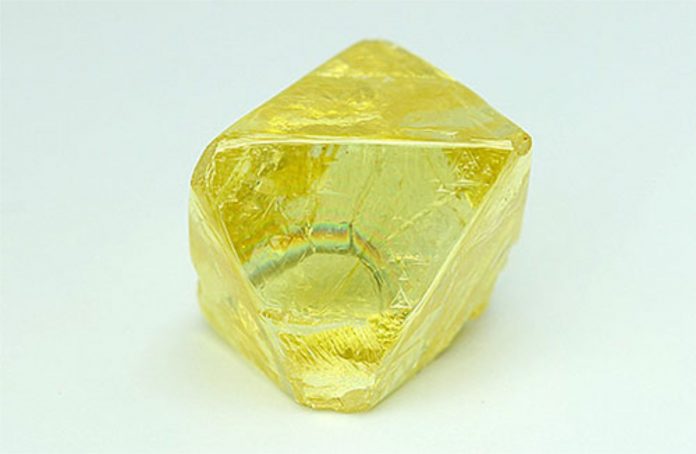 Russia's AGD Diamonds (formerly known as JSC Arkhangelskgeoldobycha) said yesterday that it had recently sold US$ 14.1 million of specials (diamonds of 10.8+) at an auction held through the online platform of Grib Diamonds in Antwerp.
The miner said that the auction was headlined by a 57.05 bright yellow diamond discovered at its Gorky mine in June this year. The stone was purchased by Graff Diamonds. It has been named 'Nikolay Koltsov', in honour of the pioneering geologist who was at the forefront of the discovery of the first Arkhangelsk diamondiferous province in Europe way back in the 1980s.
AGD said that the auction included some stones mined in 2015-16, which indicated that the market for the exclusive white and coloured diamonds from its mines remained stable.
As reported earlier, AGD Diamonds recently acquired 100% stake in Grib Diamonds of Antwerp which hosts online auctions on its own electronic platform.
Pic caption: The 57 carat yellow diamond
Pic courtesy: www.agddiamond.ru
News Source: gjepc.org