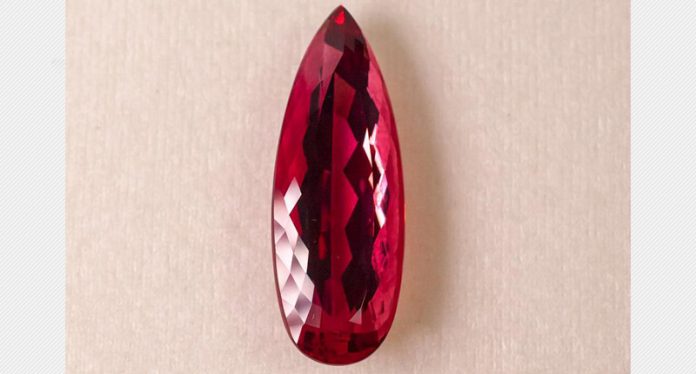 Washington, D.C.—The Smithsonian has a special new stone in its National Gem Collection.
The museum has acquired the 48.86-carat red "Whitney Flame Topaz," which it says is one of the finest topaz in the world.
The gem was privately owned for decades until the museum acquired it with the help of philanthropist Coralyn Wright Whitney as a gift for the National Gem Collection. It is now on permanent display to the public in the Harry Winston Gallery at the Smithsonian's National Museum of Natural History in Washington, D.C.
The Whitney Flame was sourced from the topaz mines of Ouro Preto, Brazil. It has a vivid red hue that comes as a result of trace quantities of chromium that were incorporated into the original topaz crystal as it grew in the earth.
"The Whitney Flame Topaz is a major addition to the Smithsonian's collection and will delight and amaze millions of museum visitors," said Jeffrey Post, chair of the Department of Mineral Sciences and curator of the National Gem and Mineral Collection. "The color and beauty of this gemstone is astounding. You have to see it to believe it. The Whitney Flame is truly one of Earth's treasures."
The topaz was accompanied by a $5 million gift from Whitney to endow the Coralyn W. Whitney Curator of Gems and Minerals position at the museum.
Whitney is one of the Smithsonian's most prominent supporters. She has contributed major pieces to the collection and provided financial backing for education and research.
In 2009, she donated the 17-carat Whitney Alexandrite to the National Gem Collection. She also established the Coralyn Wright Whitney Endowment to support research and activities related to the collection.
News Source: naitonaljeweler.com