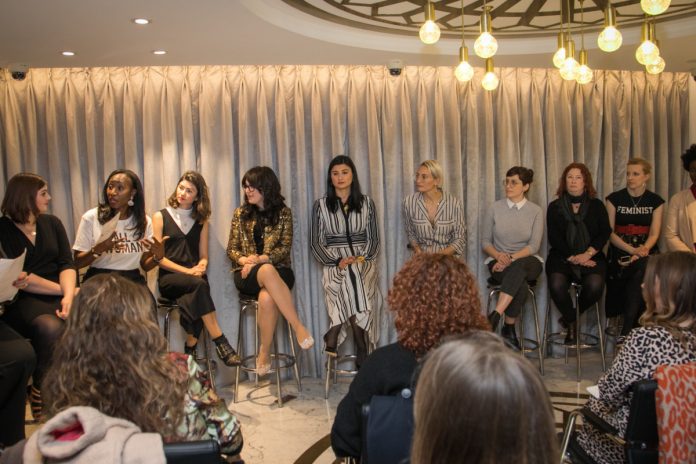 The increase of successful women pioneering jewellery brands was highlighted at an exclusive event held in London on International Women's Day,
Hosted in London by the specialist, all-women, jewellery agency Facets PR, and supported by the Women's Jewellery Network, the event held in London invited leading names in the jewellery world to come together to exhibit their pieces and talk to the press about how they are working to empower women through jewellery.
Attendees also took part in a panel discussion about the opportunities and challenges of being a successful female entrepreneur.
Among the line-up was London lawyer and fashion philanthropist Jennifer Ewah, who spoke about the launch of her ethical luxury brand Eden Diodati, which is made by a community of women in Rwanda who are all survivors of the Rwandan genocide; while award-winning Irish businesswoman and designer Chupi Sweetman spoke about the runaway success of her jewellery brand Chupi.
Elsewhere, ethical jewellery brands Alexis Dove Jewellery, London retail jeweller Lila's Jewels from East Dulwich, Natalie Perry Jewellery, and Hargreaves Stockholm, all headed up by women, spoke about their commitment to Fairtrade and why they choose to make an ethical statement through their businesses.
Celebrating all that is fierce and feminist was jewellery brand Phine London, headed up by Swedish ex-lawyer turned jewellery designer Elina Farschou, while other women-led jewellery brands who took part in the event included Satta Maturi, a fine jewellery brand from Botswana, Ottoman-inspired jewellery from start-up brand Senin Jewellery, jewellery retail disruptor Glitzbox, and Six Jakobs, founder of the namesake brand.
Speaking after the event, Sarah Carpin, director of Facets PR, comments: "As an all-woman agency and with such a strong roster of female clients from around the world who have inspired us by their businesses, jewellery designs and vision, it seemed like the perfect opportunity to host an event to celebrate the new wave of women entrepreneurs in jewellery.
"While the jewellery industry is still very much a traditionally male-dominated world, it is exciting to see so many women now successfully making jewellery and running jewellery brands across all segments of the industry.