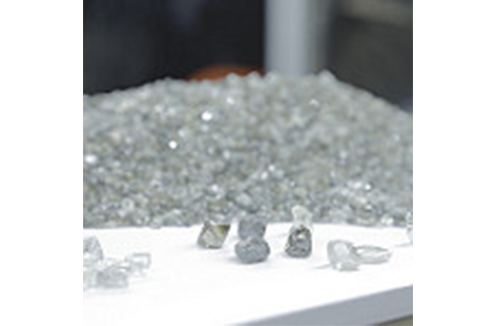 Stornoway Diamond Corporation reporting its results for the quarter ended September 30, 2016 (Q3 FY2016) said that it had made a loss of C$ 15.5 million (C$ 0.02 loss per share basic and fully diluted) compared to a C$ 10.3 million (C$ 0.01 per share basic and fully diluted) net income during the three months ended October 31, 2015 (Comparative Quarter). This, the Company said "is in large part due to a change of C$ 25.0 million in other (income) expense".
Further, the Company declared: "Incurred project costs and commitments at the quarter-end totalled C$ 730 million, or 94% of budget."
The Renard Diamond Mine, which was officially opened on October 19, 2016, saw a sale of its production on November 14, 2016; about two months in advance of the scheduled date.
"During the quarter, 91,010 tonnes were processed with attributable production of 111,556 carats," Stornoway said. This represents   an average grade of 123 carats per hundred tonnes. Of the diamonds recovered during the quarter, 21 stones were   larger than 10.8 carats in size (specials).
The Company added: "Mining in the Renard 2-3 and Renard 65 open pits stood at 11,570,023 tonnes, or 104% of plan, with 1,295,194 tonnes of ore stockpiled."
Matt Manson, President and CEO, commented: "The current quarter reflects the wind-down of mine construction activities at Renard and the commencement of our production ramp-up. Our final forecast for mine capital cost continues in line with our previously reduced estimate of C$ 775 million, and we remain on track for commercial production by year end."
News Source : gjepc.org