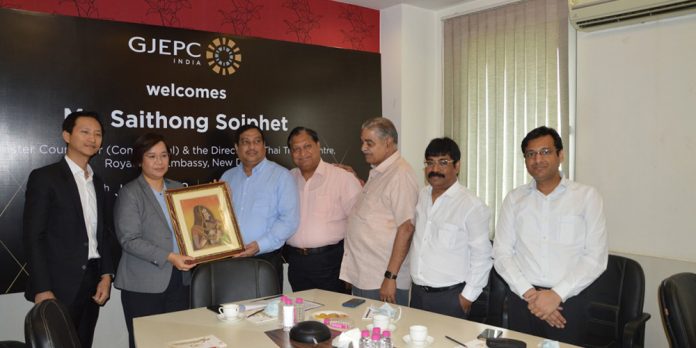 Saithong Soiphet, the Minister Counsellor (Commercial) and Director of Thai Trade Centre, Office of Commercial Affairs, Royal Thai Embassy, New Delhi, led a delegation to GJEPC's Jaipur Regional Office on 25th July 2022 to strengthen bilateral trade between both countries. She was joined by Counsellor Commercial, Narathip Raksakit, and Trade Officer, Bobby J. Gupta.
The Thai officials were welcomed by GJEPC Regional Chairman Nirmal Bardiya along with Convener, Coloured Gemstones Panel, Mahendra Kumar Agarwal; Convener, Silver Jewellery, Rambabu Gupta; and Convener, Sales To Foreign Tourists, Synthetic Stones & Costume Fashion Jewellery Panel, B.N. Gupta.
The Thai delegation invited GJEPC members to visit the 67th Bangkok Gem and Jewellery fair (BGJF) scheduled from 7th to 11th September 2022. The Indian officials called for a resumption of direct Jaipur-Bangkok flights on Thai Smile airways that were halted post Covid; and for reinstating the long-term multiple entry visa facility.