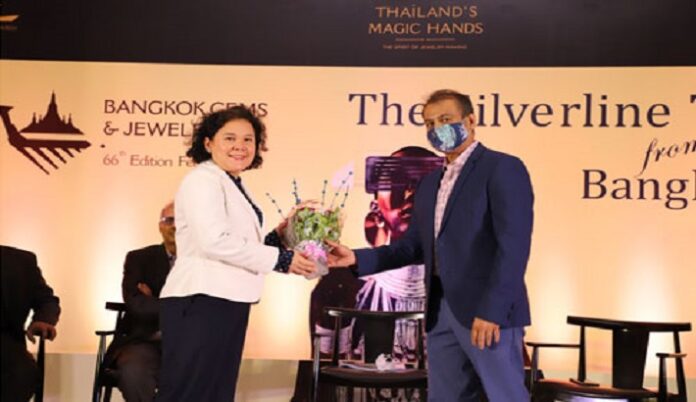 Thailand's Ministry of Commerce, Department of International Trade Promotion (DITP) with support from Thailand's gem and jewellery delegates and the Thai Trade Centre, Mumbai, conducted the "Silverline Trade from Bangkok to Bombay Roadshow" for the 66th Bangkok Gems & Jewelry Fair (BGJF) to be held from 23rd-27th February 2021 in Bangkok for a very selective group of leading Indian jewellers.
"India is known as one of the top players in the international gems and jewellery business from quality diamonds and coloured stones to silver and gold jewellery. The DITP looks forward to welcoming India's gems and jewellery players to join our BGJF platform," Mr. Somdet Susomboon, Director General of DITP, said in a video message.
The DITP will provide the event with a hybrid platform for all attendees both offline and online, as well as ensuring that the highest levels of safety, security and public health precautions are in place for the benefit of attendees.
In her presentation, Ms. Supatra Sawaengsri, Consul (Commercial) and Director, Thai Trade Centre, Mumbai, highlighted that in the previous 65th BGJF, Indians were the no. 1 visitors attending their show and no.2 in trade volume.
The leading Indian delegates comprised Mr. Colin Shah, Chairman, The Gem & Jewellery Export Promotion Council (GJEPC) and Mr. Mehul Shah, Vice President – Bharat Diamond Bourse and Director Star Brillian among others.
Colin Shah said, "I praise the pro-active initiative taken by Thailand's DITP in conducting a roadshow of huge magnitude in Mumbai post Covid-19. The numerous initiatives taken by GJEPC have fostered enhanced collaboration between India and Thailand in the gem and jewellery business."
Mehul Shah said, "With the support of the Thai government, DITP is aggressively pushing export activities to India, Japan, the United States and the Middle East. BGJF exhibition promotes and enhances trade between India and Thailand and builds up great B2B relationships between Indian and Thai business people."
News Source : gjepc