There's something truly special about giving your loved ones a gift that is tailored to them. Necklaces that have their names engraved can feel more meaningful than those without any personalization.
Jewelers around the world understand this and some of them take great pride in creating custom-made jewelry to suit their clients' desires.
The process of conception to completion is truly fascinating to observe, and it's an experience that jewelers should be able to give their clients. Creating custom-made jewelry is an art in itself – and George Hadary (a.k.a. George the Jeweler) shares his experience.
Here, you'll hear from Astteria's jeweler and learn the ins and outs of custom-made jewelry.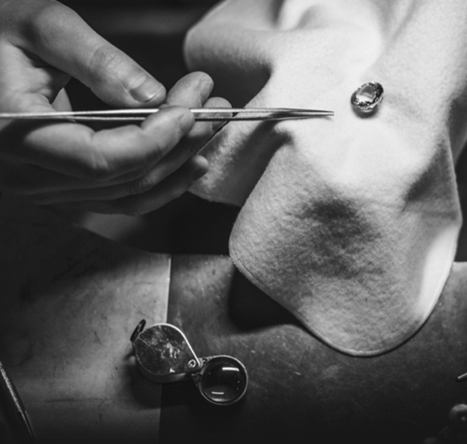 Pearl: Why did you decide to offer custom-made jewelry services at Astteria? And can you briefly describe the process to me?
George: What we found is that many clients want to have a whole feeling of the creation. They want to be a part of the whole process of creating jewelry. We go from A-Z. We start by sourcing the main stone according to the criteria that the client gives us, their budget, and the dream that they have. We try to make that dream come to reality. We source the main stone and we try to build together with the client. Their custom made item has to match whatever they have in their minds.
Pearl: What do you prefer – custom-made jewelry or your own jewelry items?
George:  I don't have a preference – I think both are very interesting. We do a bit of both at Astteria. We create our own items and we also make custom jewelry items. We have a passion for both because it's amazing to create something specifically for someone and cater it to their exact needs. On the other hand, it's a whole other experience to build something yourself that will be desired by someone else in the end.
Pearl: What are some of the challenges you face with custom jewelry clients?
George: There are many challenges when it comes to custom-made jewelry. First of all, you have the budget. There's always a financial limit. Sometimes specific stones look different off-set and on-set. This can make it hard for the client to change their minds because they tend to have their own ideas of what the gems should look like. For example, the gemstones are deeper than diamonds and they look different when they are cut and shaped. The size makes them look smaller than what the client wants, or the weight may be heavier because of higher carats. You have to have some kind of balance between what you see as a jeweler and what the client wants. At the end of the day, it's the client to decide what the jewelry will look like. I'm happy to explain and advise, but I let go of control and let the client's desires be prioritized. We also restart the process if the client is not happy with the outcome – we do all this until the client is happy.
Pearl: What advice would you give to jewelers who are interested in creating custom-made jewelry for their clients?
George: The best advice I'd give to jewelers is to exercise patience when it comes to creating custom-made jewelry. When I guide clients, my main goal is to understand what they want to fulfill their needs. Sometimes a client will compromise on some things just because they have a specific idea of what they want in their mind. This is why it's important to be patient. Also, make sure that they explain things clearly to clients. It's not just about the certificates and clarity, it's also about how the jewelry is going to appear on the client.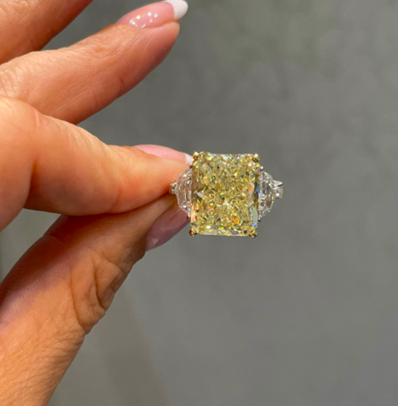 This ring was designed to tailor the client's desires. She wanted a fancy light yellow diamond ring in the shape of a square – and George gave her just that. This 10ct ring has VS2 clarity and is GIA certified. By combining the desires of his clients with his expertise, George has created exquisite jewelry. And so can you!