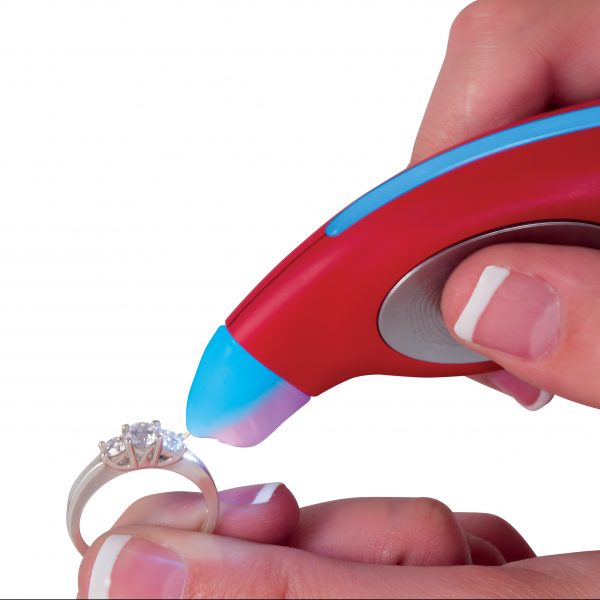 When synthetic moissanite premiered on the jewelry scene in the 1990s, it was notable because it fooled thermal testers, the traditional way to separate diamonds from CZs. That resulted in a slew of new testers specifically designed to spot moissanite; for a time, even moissanite manufacturer Charles & Colvard, then called C3, sold one.
But with the advent of Forever One, the new, "more brilliant" moissanite, there's a possibility even new testers might be fooled, warns Danny Kessler, co-CEO of Sy Kessler Sales.
The first-generation moissanite testers measured electrical conductivity, he says. But not all Forever One has the same electrical conductivity as the initial moissanite.
"Some of it's just barely electrically conductive," he says. He estimates half the Forever One moissanite can be spotted by the veteran testers. And half can't.
Kessler is hardly a neutral party here; his company has developed three testers under its GemOro brand, which he says can detect all moissanite, even Forever One. They work by using an ultraviolet light, which stimulates the atoms in the moissanite and makes the stones easier to identify.
For now, most of the industry's attention is on detecting lab-grown diamonds. And while that is certainly a problem, Kessler notes that there is an increased risk of mislabeled moissanite being purchased at the take-in counter.
"I know diamond cutters that have been fooled by this new moissanite," he says. "As a tester manufacturer, we get calls weekly asking, 'Why is my tester not identifying this moissanite?'"
Of course, moissanite can also be spotted by its double refractivity, but Kessler says not all people are trained gemologists.
"There are a good many clerks in jewelry stores," he says.
Charles & Colvard told JCK that "it is not an expert on testers" but it worked with GemOro on its device and recommends it on its site.
News Source: http://www.jckonline.com