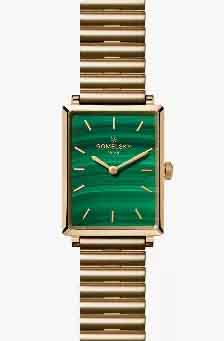 A girl walks into a booth …
In March 2013, I had a funny encounter at Baselworld that has since brought me a small degree of fame. You can read the whole story here (and here), so I'll give you the abridged version: When I arrived for my morning press appointment at the Shinola booth that year—it was the Detroit-based watchmaker's inaugural appearance at the fair—I unwittingly became entwined in one of the company's more extraordinary narratives.
What I didn't know at the time was that the company's chief executive, Tom Kartsotis, had issued a dictum when he found out his team had failed to come up with a name for one of Shinola's new ladies' watches: The model would be named after the first person who walked into their booth in Switzerland.
As it happens, that person was me.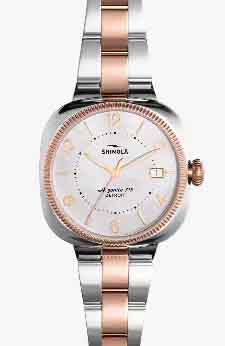 The latest iteration of The Gomelsky in 36 mm rose gold–plated steel case; $850; shinola.com
When The Gomelsky wristwatch came out in stores a few months later, it earned me a mild degree of notoriety (almost exclusively among my fellow watch writers). But nothing compares to the attention I'm getting this fall, now that Shinola has introduced an entire women's watch line called Gomelsky—by which I mean my last name appears right there on the dial. In a gilded sans serif typeface. Offset by diamonds and semiprecious stones.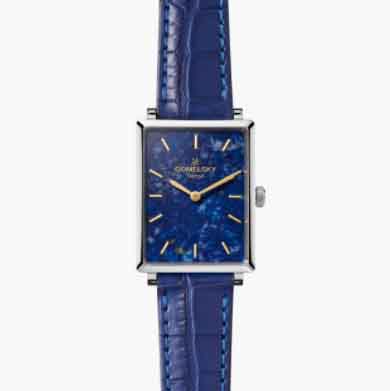 The Shirley Fromer (named after creative director Cassie Coane's grandmother) with lapis dial; $850
The experience of seeing my humble Russian-Jewish surname on the dial of a glitzy wristwatch from one of America's coolest brands is both hilarious and surreal. In this age of hyperpersonalization, when it's possible to have a name engraved, stitched, or monogrammed onto just about any surface, from a leather notebook to a golden ring, the dial of a timepiece remains stubbornly off-limits. Such choice real estate is traditionally reserved for the mark of the watch's maker, be it Pulsar or Patek Philippe.
You may think I'm biased when I say that Gomelsky truly is a cool new offering in the growing ladies' watch category, but hear me out: The collection's numerous styles—in both round and tank shapes, from tiny cocktail watches to sturdy, sporty timepieces—are chic yet accessible, colorful without being obnoxious, and, best of all, truly original-looking. They are sold online, at select Shinola locations, and at Neiman Marcus, Nordstrom, and Bloomingdale's, for retail prices ranging from $650 to $2,950.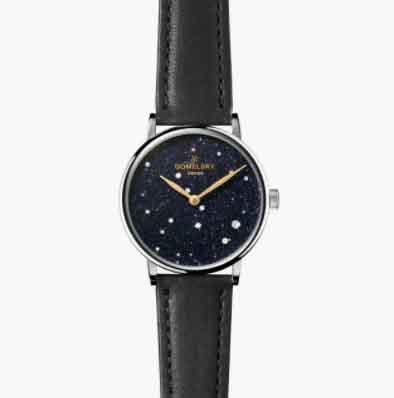 The Agnes Varis with a sandstone dial; $1,000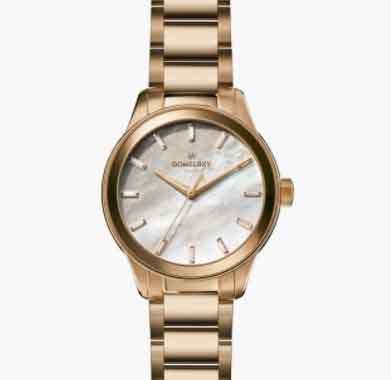 The Grace Lightfoot with mother-of-pearl dial; $1,950
The visual merchandising that supports the brand is equally powerful, including my favorite touch: matchbooks branded with an image of fingers in a peace sign (not unlike the emoji) on the front, Gomelsky written across the back, and a handwritten-style note on the inside flap: "Don't wait up for me – xxx, G."
The fictional Gomelsky character that Shinola creative director Cassie Coane conceived to help bring the brand to life was not inspired by me. I did not design the line or collaborate in any way on its creation. I was not, as some have suggested, its muse. I did, however, find myself in the right place, at the right time, on that day in Basel three and a half years ago, and I have reaped the benefits of that serendipitous run-in ever since, chief among them a boatload of misplaced glory. Not to mention a free watch or two.
(At top: Shirley Fromer with malachite dial; $950)
News Source : JCKOnline.com