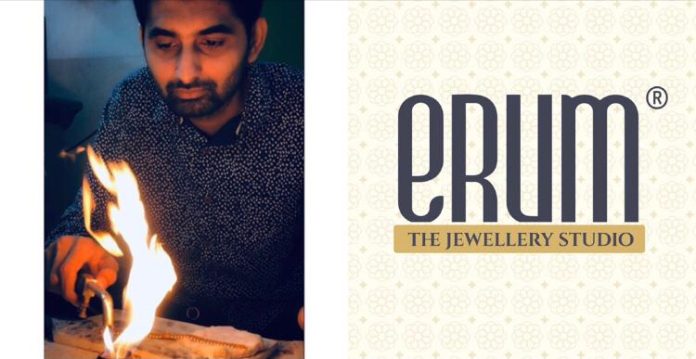 Erum Jewellers came into existence on April 2017 by the designer and founder Mr. Mahammad Ali with the mission to provide quality gold and diamonds at stellar prices. With 7 years of rich experience in Jewellery business Mr. Ali had established Erum Jeweller as a registered jeweler with BIS (Bureau of Indian Standards) along with a registered trademark under class 14.
Based out of Palampur Gujarat, Erum Jewellers popularly known as 'Erum the Jewellery Studio' is a manufacturer of precious jewellery that is gold, silver, platinum, diamonds, cubic zirconium and moissanite with an expertise in developing customized pieces and exporting all across the globe. The type of jewellery designs manufactured by Erum includes hip hop jewellery, initials, 3D face, cartoon, diamond studded pendants, chains, bracelets. For diamond jewellery the varieties includes solitaire rings and pendants. The wide collection of gold, diamond, platinum and silver jewellery manufactured by Erum are sold locally on a retail basis as well as they export globally. Besides this, Erum has excelled upon a rapid and phenomenal growth with their attractive and sustainable designs. The jewellery manufactured by Erum is mainly sold online on B2B marketplaces along with B2C marketplaces.
The products available for sale online includes 9 to 5 sterling silver all hip hop pieces, diamond pieces, cubic zirconium pieces and moissanite. The products are also sold to the retailers where the retailers take order from the customers and get it manufactured from Erum whereas the designs are visualized and approved by the customers and then further changes are made right from crafting, polishing, filing and at times plating on special requirements. Some goes for while gold plating or Yellow gold plating and some goes for normal gold plating. Together with plating the designers at Erum also does engraving on the backward side of the products. Engraving can be done on rings, pendants, chains and few customers also does engraving in personalized name.
The area of specialization of Erum also includes diamond studding on Watches. The world class companies like Rolex, Rado, Cartier, batterflip and many more, Erum stud diamonds on the watches as per the customer's demands. This is the special customized work of Erum where customers just provide the watch and diamond studding is done as per their wish. Indeed a diamond studded watch makes it more of a piece of beautiful jewellery.
Erum is the member of IBJA (Indian bullion and jewellery association) and GJEPC (Gems and jewellery export promotion council). Erum was also nominated and honored with certificate of nomination for successfully being part of Nomination phase of India 500 startup Award 2019. Following the ethical business practices the honesty, integrity and transparency in the dealing with their customers made Erum stand apart from the crowd. They spare no effort when it comes to bringing out the best of quality, designs and pricing.
Jewellery is such an accessory that compliments not only yourself but your personality. Jewellery has always served as a means of increasing value. Some purchase it for investing their savings while some purchase because they like to wear it. Most People purchase jewellery as a security aspect that can also be exchanged and sold back at any point of trying times. Purchase new design jewellery products with BIS hallmark from Erum Jewellers. Symbolise different messages of wisdom, elegance and prosperity with the high rated gold, silver, platinum and diamond jewellery from Erum the Jewellery studio.
You can connect with Erum Jewellery via social media platforms and explore the latest designs and remain updated about the price.