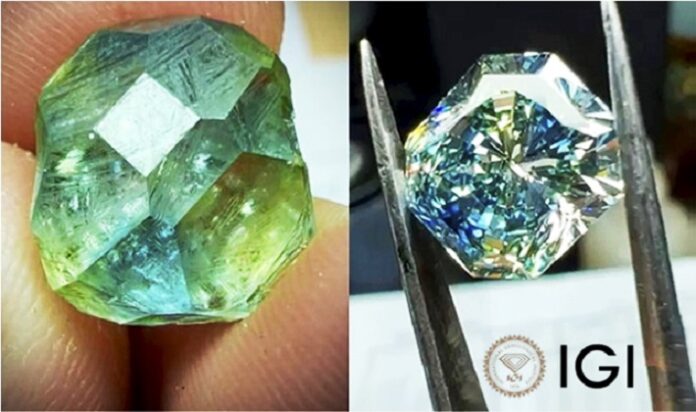 A lab grown company in Ukraine has produced "unique" two-colored diamonds – in the blue and yellow of the country's flag.
Meylor Global grew the diamonds using the High Pressure High Temperature (HPHT) method, by incorporating nitrogen and boron as metal catalysts.
"Precise color zoning is the result of years of research and experiments where chemicals and cycling are rigorously controlled," said Yuliya Kusher, the company's CEO.
"Once we understood the physics we used precise nitrogen and boron content, coupled with strictly controlled pressure, temperature and growth rates to produce this fascinating mix of bi coloration, corresponding to the Ukrainian national flag."
Meylor had two bi-color diamonds graded by IGI and displayed them at JCK Las Vegas.
One is a polished radiant-cut 4.38-carat, with VVS2 clarity and very good cut, and a fancy deep greenish blue color.
The other is a rough 10.96-carat rough crystal that also displays specific blue and yellow color zones.
"The blue and yellow are described as 'greenish' because natural and lab grown fancy colored diamonds are traditionally assessed with all hues, tones and saturation considered collectively," said Steve Rees, executive director of IGI's North American grading lab.
"What's observed here is deliberate, specific color separation, induced by Meylor, the first of its kind we've seen. We're excited at the opportunity to study this innovative development moving forward."