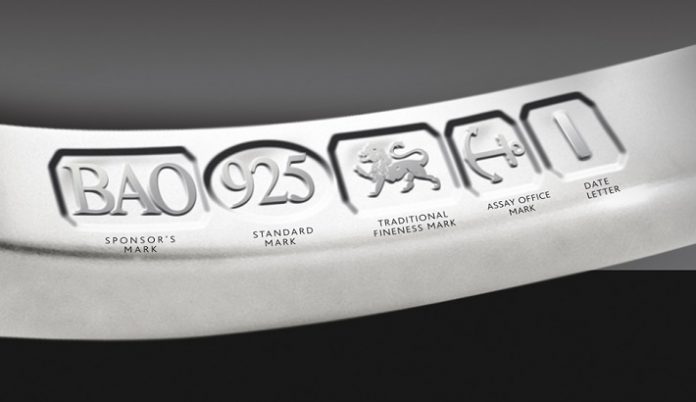 Final results for last year's hallmarking figures from the four UK Assay Offices reveals that in total, the number of items marked last year fell by 2.4%.
In total, 9,114,402 items were hallmarked in 2018 – 222,524 articles down on the year prior.
During the 12 months, silver felt the biggest loss. Overall, the number of silver articles hallmarked fell by 5.9%.
Palladium also dipped, by 26.2% respectively, while gold saw a 1.9% lift, and platinum increased by 5.3%.
View the full figures here:
Annual UK Hallmarking Figures for 2018
Gold
24ct (999) – up 129.8% (710 items)
24ct (990) – down 26.7% (129 items)
22ct (916) – down 3.5% (421,175 items)
18ct (750) – up 2.8% (828,999 items)
14ct (585) – up 21.4% (163,777 items)
9ct (375) – up 1.5% (2,698,853 items)
Total gold items – up 1.9% (4,113,643 items)
Silver
Fine silver (999) – down 4.9% (19,905 items)
Britannia silver (958) – down 11.1% (11,774 items)
Sterling silver (925) – down 5.9% (4,608,202 items)
800 parts silver – up 1.8% (689 items)
Total silver items – down 5.9% (4,640,569 items)
Platinum
999 parts – down 12.7% (62 items)
950 parts – up 8.2% (296,976 items)
900 parts – down 95.7% (322 items)
850 parts – down 61.7% (163 items)
Total platinum items – up 5.3% (297,523 items)
Palladium
999 parts – up 300% (8 items)
950 parts – down 25.6% (51,852 items)
500 parts – down 28.8% (10,807 items)
Total palladium items – down 26.2% (62,667 items)
Total items hallmarked in 2018 – down 2.4% (9,114,402 items)
UK hallmarking figures December 2018 vs December 2017
Gold
24ct (999) – up 46.7% (66 items)
24ct (990) – up 600% (7 items)
22ct (916) – down 23.2% (22,053 items)
18ct (750) – up 9.1% (63,201 items)
14ct (585) – down 15.9% (11,980 items)
9ct (375) – down 2.8% (214,974 items)
Total gold items – down 3.0% (312,281 items)
Silver
Fine silver (999) – down 45.4% (539 items)
Britannia silver (958) – up 14.5% (632 items)
Sterling silver (925) – down 1.4% (372,580 items)
800 parts silver – down 98.1% (5 items)
Total silver items – down 1.5% (373,756 items)
Platinum
999 parts – up 100% (2 items)
950 parts – up 79.2% (20,412 items)
900 parts – down 99.5% (37 items)
850 parts – down 76.5% (4 items)
Total platinum items – up 9.4% (20,455 items)
Palladium
999 parts – Neutral (0 items)
950 parts – down 51.5% (1,203 items)
500 parts – down 49.2% (270 items)
Total palladium items – down 51.1% (1,473 items)
Total items hallmarked in December 2018: 707,965 – down 2.1%