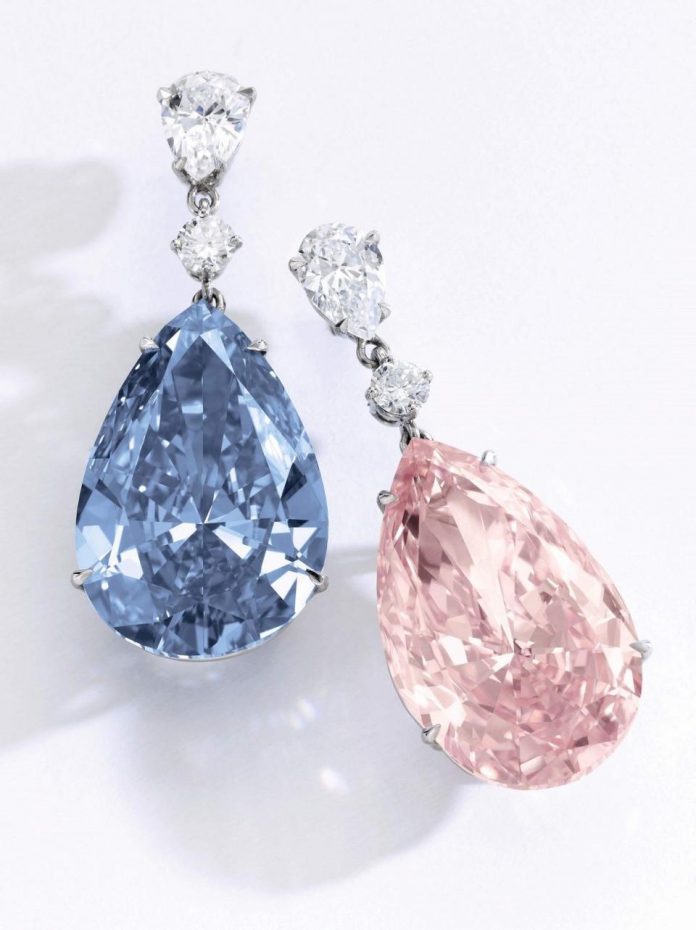 A pair of contrasting coloured diamond earrings established a world auction record after selling for more than US$57 million (AU$76 m).
The blue and pink pear-shaped 'Apollo and Artemis' diamond earrings headlined auction house Sotheby's Magnificent Jewels and Noble Jewels sale in Geneva, Switzerland on 16 May.
The fancy vivid blue internally flawless diamond weighed 14.54 carats and fetched US$42.1 million (AU$56.4 m). Its pair, a fancy intense pink diamond, weighed 16.00 carats and sold for US$15.3 million (AU$20.5 m), bringing the total winning bid to US$57,425,478 (AU$76,989,884).
According to Sotheby's, the sale resulted in the jewellery items becoming the most valuable pair of earrings to have sold at auction.
coloured, Diamond, Diamond Earrings Sets New World Record, Diamond Jewellery, Diamonds Earrings, Earrings, Latest Jewellery, Most Valuable Earrings, News, News 2017, online diamond earrings, online diamond jewellery, Online Earrings, online jewellery, online news
David Bennett, Sotheby's international jewellery division worldwide chairman
Although the stones featured as two separate auction lots, the same anonymous bidder purchased both. A Sotheby's spokesperson confirmed the diamonds had been renamed by the buyer following the sale – the blue stone now called 'The Memory of Autumn Leaves' and the pink stone called 'The Dream of Autumn Leaves'.
Worldwide chairman of Sotheby's international jewellery division David Bennett said he was 'delighted' the earrings would remain together.
"It has been a privilege for Sotheby's to be entrusted with the superb 'Apollo Blue' and 'Artemis Pink'. The results from [this] sale – which saw more than 90 per cent of lots sold and three new world auction records – yet again underline the strong demand for top quality diamonds, gemstones and jewels," Bennett added.
A brilliant cut, 7.04 carat, fancy intense purplish pink diamond set another auction record for the highest price paid for a diamond of its colour grade on both an overall price and per-carat basis, after selling for $US13.2 million (AU$17.7 m).
Coloured reign
As previously reported by Jeweller, coloured diamonds have been breaking world records for the past few years.
A fancy vivid pink oval-cut stone named the Pink Star fetched US$71.2 million (AU$95.9 m) at a Sotheby's Hong Kong auction in April this year. The figure resulted in the diamond, which is mounted on a ring and was renamed CTF Pink Star, setting the record for the highest price paid at auction for a diamond or piece of jewellery.
The previous record was held by a fancy vivid blue diamond known as the Oppenheimer Blue, which sold for US$57.5 million (AU$77.1 m) at the Christie's Magnificent Jewels sale in Geneva, Switzerland in May 2016.
Until then, a diamond of the same hue, the Blue Moon of Josephine, which fetched US$48.5 million (AU$65 m) at a Sotheby's auction, held the title.
News Source: jewellermagazine.com