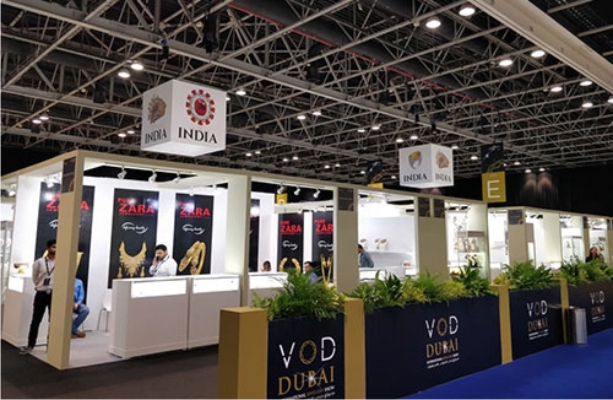 VOD Dubai International Jewellery Show (VOD DIJS), one of the significant gem and jewellery events in the region, was officially opened yesterday at the Dubai World Trade Centre (DWTC) by His Excellency Butti Saeed Al Ghandi, Second Vice Chairman of the DWTC.
The show will run through to November 17. It brings together both local and international exhibitors across four distinct categories – Global Brands, Fine Jewellery, Gemstones & Diamonds, and Packing & Technology, giving visitors an exposure to various facets of the global jewellery industry, such as craftsmanship, production, distribution, precious materials, trends, and much more.
Other dignitaries at the opening ceremony included His Excellency Helal Saeed Almarri, Director General of Dubai's Department of Tourism and Commerce Marketing and CEO of Dubai World Trade Centre; Gianpaolo Bruno, Italian Trade Commissioner to the UAE, Oman and Pakistan; Valentina Setta, Italian Consul General to Dubai; H.E. Mr. Vipul, Consul General of India Dubai; Mr. Johnson Kam, Director and Ms. Catherine Chan, General Manager of Hong Kong Jewellery & Trade Manufacturers Association; Luca Veronesi, VOD DIJS Show Director; and Marco Carniello, Jewellery & Fashion Division Director – Italian Exhibition Group.
A highlight of the first day was the exquisite jewellery showcase presented at the VOD DIJS fashion show by BNM Jewellery, Shenzen Sunrise, Hasbani, Tedora, and Diacolor International DMCC.
A large Indian Pavilion, organised by the GJEPC, has 64 exhibitors spread across two different locations – the Retail and Trade Sections. This is the 4th consecutive year that GJEPC has hosted the pavilion.
The UAE is one of India's major trading partners, being the second largest destination for Indian gem and jewellery exports. The region is the top destination for India's gold jewellery exports and in the top three destinations for diamonds and silver jewellery too.
VOD DIJS is organised by DV Global Link, a joint-venture company between Dubai World Trade Centre (DWTC) and Italian Exhibition Group (IEG).
Pic caption: The India Pavilion at VOD DIJS 2018
News Source: gjepc.org