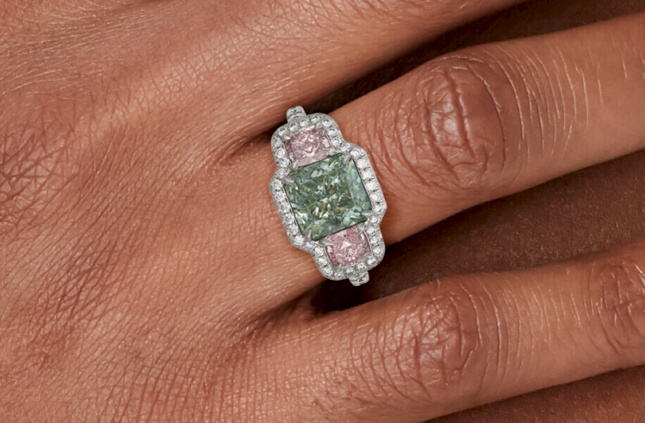 A 3.00-carat fancy intense green diamond ring sold for $491,000 at Christie's Jewels Online: Summer Sparkle.
That was above its low estimate of $450,000, but less than a high estimate of $550,000.
The cut-cornered square modified brilliant-cut diamond, GIA-certified as SI1, was set in platinum with a fancy purplish pink cushion modified brilliant-cut diamond of 0.45 carat (VS1), fancy pink cushion modified brilliant-cut diamond of 0.41 carat (also VS1).
It fetched the highest price at the auction, followed by a platinum ring set with a white 12.75-carat emerald-cut diamond (G / VS1), which sold for $441,000 (estimate $400,000 to $600,000).
Overall the 10-day sale realized $4,508,532 with 107 per cent hammer above low estimate and 98 per cent sold by lot.
The sale saw global participation with bidders from 24 countries and first-time registrants accounted for 13 per cent of bidders.