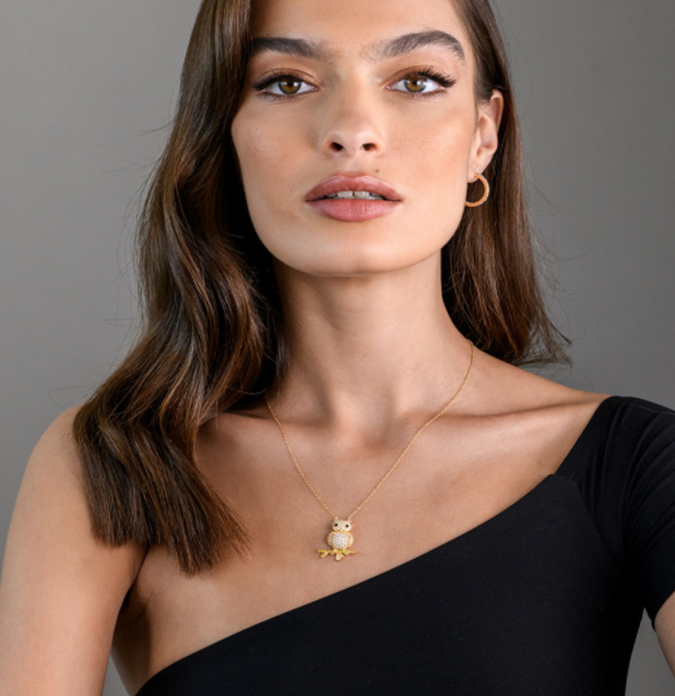 Spring adds new life and new beauty to all. It is a season that creates happiness, motivation, and positivity among all people. Jewelry also serves a similar purpose, trends change and so does your style. Different seasons require you to try out different pieces. On the other hand, if you put a little effort into researching and understanding the latest seasonal trends, you'll be able to maintain your perfect looks without any difficulty.
Just like in gifts, finding the best one requires effort but jewelries like diamonds are well appreciated  because of many reasons. There are a lot of jewelry that can be seen in Myka, a renowned jewelry brand whose personalized name necklaces encapsulate the very essence of spring, channeling a love for life and beauty through every chain and pendant.
Why Jewelry is best worn in spring.
Naturally,  the value of jewelry is not reserved for one season; its splendor can be translated across various times of the year. Spring is a time of blossoming, when nature showcases its new foliage. In the same light a personalized name necklace or bracelet can be a new display or expression for the season. With Myka's personalized name necklace, you'll see a diverse range of designs and quality materials, for each of these jewelry pieces with details that are one of a kind.
A showcase of Myka's spring collection
Hazel Personalized Paperclip Necklace with Engraved Charms in Gold Plating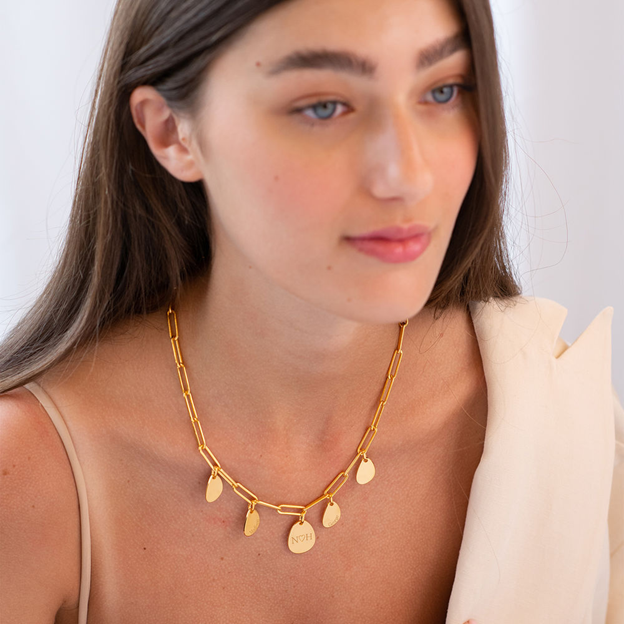 Gild the lily this spring with this personalized name necklace distinguished by its paperclip links. This statement necklace has elements of modernity and sophistication due to the geometric and amorphic shapes present in its design. Not only is it stylish but there's a sentimental quality that it possesses. Attached to the chain are charms which include a large and central drop and four smaller drop-shaped charms. Each charm can be inscribed with a significant date, the initials of loved ones or your own, a meaningful quote or name of up to 9 characters each. You can get this necklace made in Gold Vermeil which is a more durable and lustrous coating to keep your inscriptions looking brilliant.
Rory Chain Link Bracelet with Custom Charms in Sterling Silver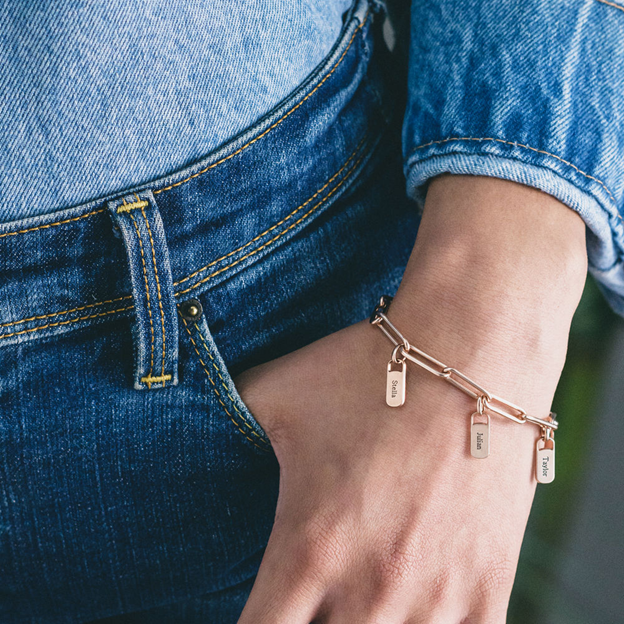 Adorn your wrist with this chain link bracelet that comes with custom charms. The glinting Sterling Silver coating is one of four materials you can choose from. Attached to the oblong link are tag-style charms that you can have inscribed with the words or initials of your choice. You can have a maximum of six charms tasseling around your wrist with added comfortability through the adjustable extender chain.
Family Tree Circle Necklace with Cubic Zirconia in Sterling Silver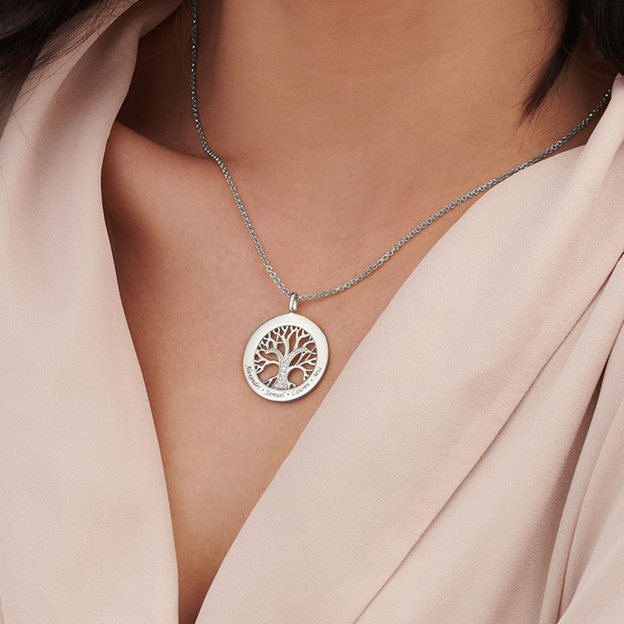 This Family tree necklace is a display of nature's finest insignia and the appreciation of the ones who enrich our lives. Have the names of those dearest to you inscribed and encircling this magnificent pendant. At the center of the pendant is a tree detailed with crystalline cubic zirconia which are lab designed diamonds that add an elegant touch to this piece and illuminate the Sterling silver coating; for a lasting shine ,
The Family Circle Necklace with Birthstones in Gold Plating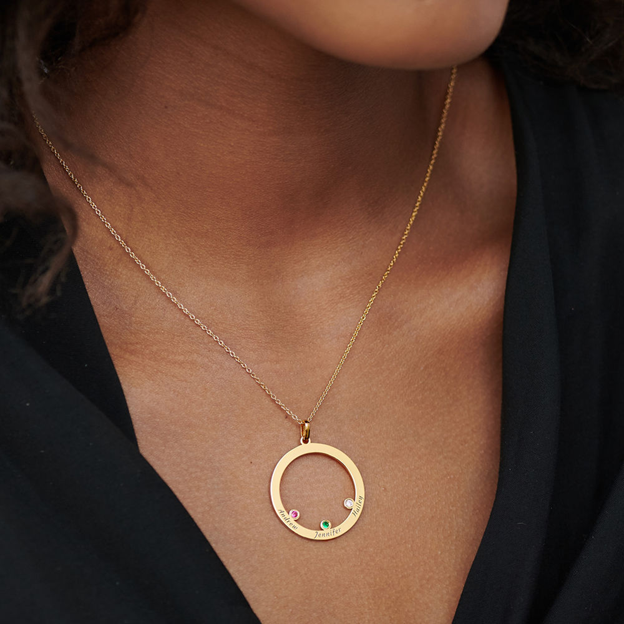 A personalized name necklace doesn't get as detailed as this inscribed piece featured with dainty birthstones.  For its modest size this family circle pendant boasts a sizable show of Mykas exceptional craftsmanship.  Around the 18 karat gold plaiting you can have a maximum of six names engraved accompanied by corresponding birthstones.  Delight in  deep  emeralds, perky peridots and resonant sapphires among the twelve birthstones whose minute size are secondary to their charm.
Linda Circle Pendant Necklace in 18k Gold Plating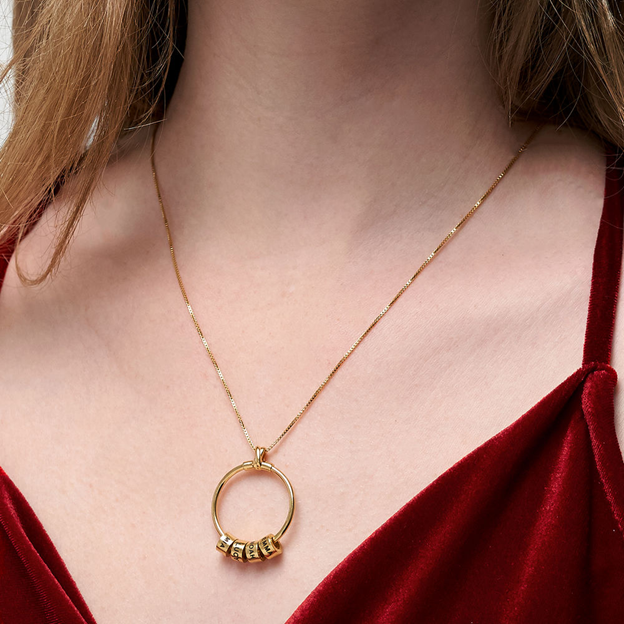 Captured in 18 karat gold plating is this Linda circle pendant necklace that is charming in more ways than one. Linda translated from Portuguese and Spanish means "beautiful", a meaning clearly defined in details of this piece. Hanging from the tight links of a cable chain is the main part of the pendant; the circle, from which customized beads and charms are hung. A maximum of five beads can be inscribed with words or names which you can add at any time you'd like. Along with the customized beads is the option of adding a charm or two; compliment the pendant with a heart, leaf or clear stone charm to your liking.
You can be inspired by the bloom and blossom happening this season, or you could take a step further and adorn yourself with jewels that will enliven the spring within you.