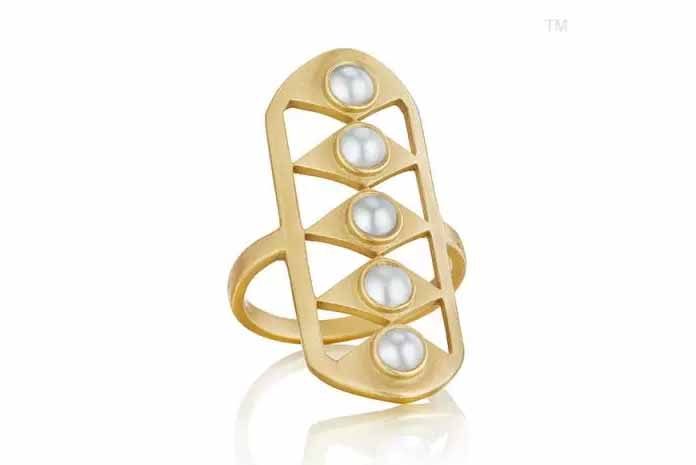 From big earrings to bold pops of enamel, the styles that will rule the year ahead are resolutely modern
So long, 2016! And with it, I'd like to say a personal sayonara to stacking rings and earring jackets. The former are too ubiquitous for my taste, while the latter never sat quite right with me (literally—the pairs I owned twisted around my lobes, refusing to stay still). Instead, keep the following seven trends in mind as you restock after the holiday. I promise: They'll be huuuuuuge.
1. Bold 1980s throwback earrings are back in a BIG way.
Longtime JCK contributor Randi Molofsky says it best: "Big is definitely better when it comes to these statement stunners, whether it's a single ear dangle, polished gold door-knockers, or larger-than-life hoops. (Shout-out to Robert Lee Morris who did it first and still does it best!)"
Sidney Garber door-knocker earrings (large) in 18k yellow gold, $6,500; sidneygarber.com
2. Modern takes on enamel provide unexpected pops of color.
Long associated with antique jewelry—and difficult, fragile techniques such as plique-à-jour—enamel gets a modern spin in the coming year with jewels featuring bold colors and simple stripes and solids, says Molofsky, adding: "Used as accents for rich yellow gold, this ancient technique is new all over again."
"Used for years in high-end jewelry and collectible objets, enamel has become more popular, to add additional color and texture," says Elizabeth Bonanno, a New York City–based jewelry consultant who represents a mix of hot designers including Buddha Mama, Victor Velyan, and Pamela Huizenga. "It's taken the public a minute to embrace this artistic expression, but I don't see this style going away anytime soon."
Alice Cicolini 18k gold, enamel, and tourmaline ring, $1,830; alicecicolini.com
3. Pearls explode!
The headline above is taken directly from an email from Marie Helene Morrow, of Puerto Rico's influential Reinhold Jewelers, who sees some of the most cutting-edge designs the industry has to offer.
Bonanno agrees: Battling pearls' matronly image, "designers are pushing themselves to find an edgy way to wear these gemstones. With some of the envelope-pushing designers giving us pearls in their most recent collections, I'd say they're winning the war!"
Doryn Wallach gladiator ring in 18k satin gold with bezel-set freshwater pearls. $2,320; dorynwallach.com
4. Charm necklaces are the new collectible jewelry.
Charm bracelets are so 2005. "People are distinguishing their individuality on a necklace," Bonanno says. "An added charm or two to any chain immediately tells your story. It's also a way to wear several different designers' works on one piece."
Jennifer Fisher Buddha charm in 14k gold with single white diamond, $750; jenniferfisherjewelry.com
5. Have a heart.
Like a lot of women, I've resisted heart-shape jewelry because, well, it smacks of little girls. To my chagrin, the market has failed to introduce heart designs that feel sophisticated enough for big girls to wear with pride. Until now. "The style is suddenly back and has transcended its cheesy connotation," Molofsky says. "Whether [with] heart-shape diamonds and colored gems or pavé-set motifs, love will find a way."
Heat-shape diamond ring from Rahaminov Diamonds' Instagram
6. Geometry class is back in session.
It's difficult to say why tastes in stone shape vary year to year, but you know they do. The year ahead feels angular, as opposed to curvy and round, and that feeling plays out in stone silhouettes.
"Facets are fine, but this year's interest is all about the shape—specifically, sharp angles like hexagons, octagons, rhombi, and trapezoids," Molofsky says. "Sparkle becomes nearly secondary, especially when set in yellow gold bezels."
Look for sharp angles in diamonds this year, like these Erika Winters Estella bar earrings with rectangular French-cut diamonds, price upon request; erikawinters.com
7. Minimalism redux.
If you haven't heard of Marie Kondo and her 2014 anti-clutter manifesto, The Life-Changing Magic of Tidying Up, you're in the minority. Her philosophy—that unexpected joy comes with streamlining your life—articulates one of 2017's biggest lifestyle trends, and you can expect the jewelry sector to reflect it.
Lightness—manifested both as a white color palette and in terms of weight (or lack thereof)—will come to the fore this year as one way to embrace the new minimalism. See this Off the Chain post from September to find out what that means for jewelry and watch lovers.
News Source : jckonline.com