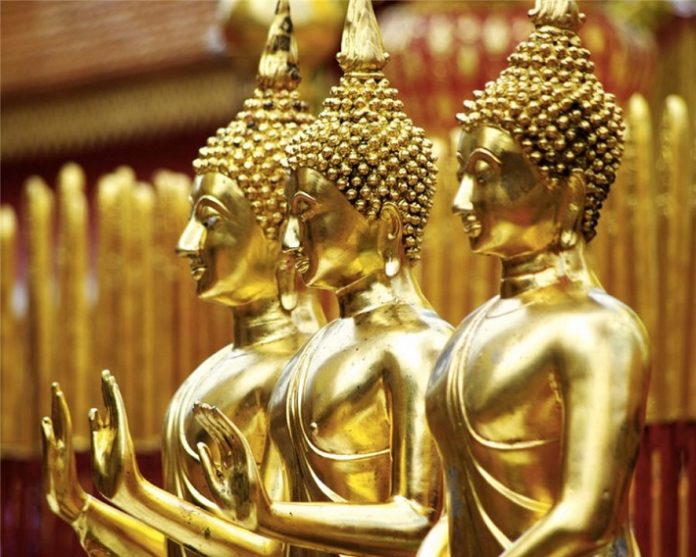 * Higher prices dampen appeal
* China premiums ease to $3-$7 an ounce
* Spot gold on track for biggest weekly gains in three
* Dealers in India offer $2/oz discount
Physical gold demand lacked vigour in most Asian hubs this week as limited safe haven interest failed to lift activity into the year end, while jewellers in India stepped up purchases, hoping for a further leg to a rally in domestic rates.
Benchmark global spot gold prices were headed for their biggest weekly gains in three on renewed interest for the metal due to concerns over a slowdown in global growth, heightened volatility in stock markets and political instability in the United States.
The physical gold market has been quiet with most players out due to the holidays, said Brian Lan, managing director at dealer GoldSilver Central in Singapore.
"On the retail side, we are seeing a slight increase in the number of people hunting to purchase gold since they see it as a safe haven right now."
Premiums in top consumer China eased to a $3-$7 an ounce range from last week's $5-$6.50.
In Hong Kong, premiums were little changed at 80 cents-$1.30 from 70 cents-$1.20 last week.
In Singapore, premiums of 60 cents to $1.50 were charged over the benchmark, versus last week's 50-80 cent level.
"We are seeing gold and silver prices starting to move up now. In an asset which has been boring, we're seeing a bigger number of buyers, but not so the big ones yet," said Gregor Gregersen, CEO of Singapore retailer Silver Bullion Pte Ltd.
In Japan, gold continued to be sold at par with the benchmark, although there is limited buying emerging, a Tokyo-based trader said.
Meanwhile, there was a marginal uptick in second biggest consumer India, with some jewellers stocking up in anticipation of a further rally in prices.
Jewellers were making small purchases even as prices rose, tracking a rally in global rates, said Harshad Ajmera, the proprietor of JJ Gold House, a wholesaler in the eastern Indian city of Kolkata.
Dealers in India were offering a discount of up to $2 an ounce over official domestic prices, unchanged from the prior week. The domestic price includes a 10 percent import tax.
"Retail buying is subdued due to year-end vacations and Khar Mass," said a Mumbai-based dealer with a bullion importing bank.
Khar Mass is a month in the Hindu calendar running from Dec. 16 to Jan. 14, which is considered inauspicious and people avoid weddings and buying gold or property during the period.
"We could see good demand if prices sustain at the current level for another week," the dealer said.
NewsSource: mining.com