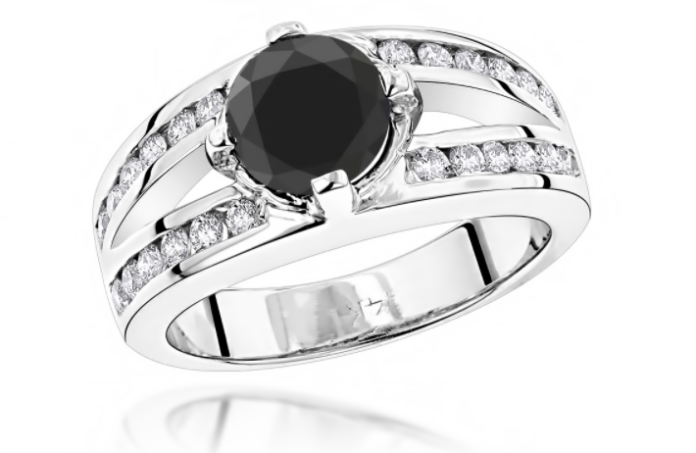 Black diamonds have been on trend recently. A lot of people choose this stone for their jewelry because of its fancy and lovely color. Moreover, many opt to incorporate this gem with rings over the years to make it look unique.
Black diamond rings both look good for women and men. They can be put in a  beautiful setting that complements the diamond's color. If you are into deep colors with an elegant and chic look, this stone might be the one you are looking for.
What are Black Diamonds? Are They Real?
Black diamonds are rare types of diamonds. And yes, they are as real as they can be. Moreover, this stone is also known as "carbonado."
The classic white diamond and the black diamond both have the same chemical structure. However, they differ in color. Black diamonds have two kinds: natural black diamonds and treated black diamonds.
Natural Black Diamonds vs. Treated Black Diamonds: How They Differ
Natural black diamonds got their color due to the wonder of mother nature. These are the ones that are mined in the beautiful country of Africa and Brazil. While diamonds and natural black diamonds both have carbon in them, black diamonds are porous compared to white ones due to their slightly different crystal structure.
On the other hand, treated black diamonds did not get their color naturally. They might have undergone a color-changing method that uses heat or radiation. Furthermore, this stone's physical and chemical components are the same as those with white diamonds.
Black Diamond Ring Ideas for Women
Below are black diamond ring ideas that women will surely love:
Three Stone Ring
You can choose a three-stone ring design with a rose-cut black diamond in the center. The other two stones would be white round-cut side stones set in a rose gold material.
Black and White
You can opt to surround your yellow gold ring with black and white diamonds. They can be put in the ring alternately. This gives a ring a fashion-forward vibe.
Classic with a Twist
A black diamond emerald-cut on a white gold setting would be lovely. You can also put a line of small white diamonds on the sides. This design is both timeless and edgy.
Marquise-Cut Black Diamond Center
A marquise-cut black diamond center would look good in a rose gold setting. This can also be elevated with a trillion side stones. With this ring, you will surely stand-out.
Halo Ring
You can never go wrong with a halo ring. You can choose to put the black diamond in the center with small white diamonds surrounding it. It would also be better if you will go for a yellow gold setting.
Black Diamonds and Rubies
If you are feeling bold, this might be the right design for you. You can choose to incorporate a black diamond center stone with ruby side stones on your white gold ring.
Knife Edge Ring
If you want an unexpected design to add to your ring collection, this might be best for you. You can consider a knife-edge design with a yellow gold setting surrounded by petite black diamonds.
Black Diamond Ring Ideas for Men
Men can also be in style with black diamond rings. The following are ring ideas you might want to try in the future:
Black Diamond in Carbon Fiber
You can choose to put a black diamond within a carbon fiber band. The stone will serve as a central focus of the ring that has an all-black color. Carbon fiber is used in aerospace engineering and for building race cars. Hence, this is the right choice for those who want an unexpected design.
Black Diamond as an Accent
You can pick out a bolder design for your ring with a black diamond accent. For example, your ring may have a cross design with a small black diamond in the center. The touch of the black diamond will draw eyes to the center of your cross ring.
Silver and Black
Black diamonds look good in a white setting. You can choose to have a silver ring with a line of about five black diamonds or more to give it a modern and straightforward design. The line of black diamonds will serve as the center point of your ring.
Black Diamond Ring with Hammered Finishes
Go all black with a hammered zirconium ring. The hammered finishes will give a ring some texture. Moreover, the dents and bumps will give it a unique look.
Dark Knights
You can choose chain mail as the centerpiece of your ring then surround the edges with black diamonds. This will give a ring a dark and dramatic look.
Takeaway
Black diamond rings have that one of a kind look. They have this mysterious yet classy aura that will surely catch some attention. If you want your ring to feel like this, then black diamond rings are an excellent choice for you.