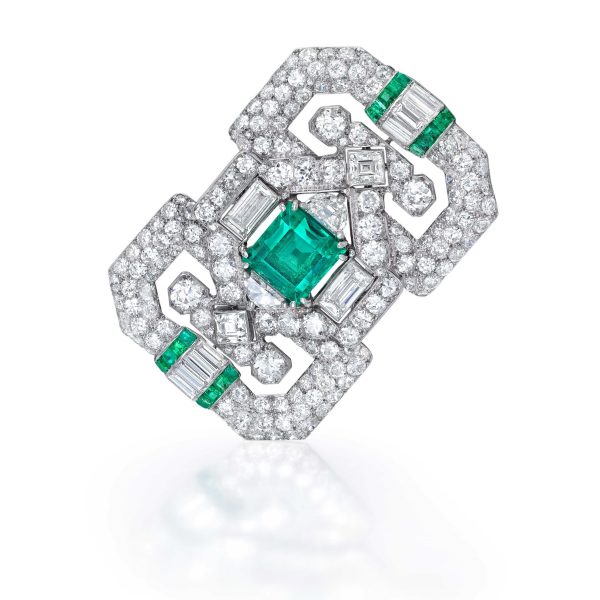 As a teenager, I devoured Jackie Collins novels like cupcakes. Chances. Lucky. Hollywood Wives. Despite my proximity to Hollywood (I grew up in the San Fernando Valley, about 30 minutes north of the famous sign), the sexy and scandalous world she wrote about may as well have been on Venus.
My teenage obsession was brought full circle last Tuesday when I learned that Collins, who died in 2015 at age 77, was a jewelry collector of the highest order. See for yourself this week when the contents of her Beverly Hills home go on the block at Bonhams in Los Angeles. Jewelry lovers, take note: Day two of the "Jackie Collins: A Life in Chapters" sale, on May 17, features more than 300 lots of jewelry ranging from enormous diamonds to Colombian emeralds to a stable of panther jewels that testify to Collins' lifelong affinity for big cats (her daughter, Rory Green, writes in a preface to the catalog: "She even named a room in our house 'The Tiger Room'!").
Dana Ehrman, director of Bonhams fine jewelry department in Los Angeles, was kind enough to walk me through the highlights of the collection. "It's an amazing array of jewelry—truly mind-bending," she told me as we perused several showcases filled with diamond-encrusted statement necklaces, many of which Collins custom designed and wore in multiples. "She had such a phenomenal eye for design and knew how to put herself together."
Collins was a passionate collector—in another foreword to the catalog, her sister, Dame Joan Collins, writes that every object she owned "brimmed with the spirit of shared moments with treasured family and friends." She gravitated to jewels by contemporary designers such as Loree Rodkin, David Yurman, Stephen Webster, and Cartier, as well as watches by Patek Philippe and Harry Winston.
She adored crosses, as the copious amounts of bejeweled cross pendants in her collection make clear, and panthers—an 18k gold tricolor Panthère collar by Cartier (lot 488, estimated at $7,000–$9,000) is just one of many pieces in Wednesday's sale calling my name. She also fancied black-and-white pairings, exemplified by a few stellar Art Deco diamond-and-onyx bracelets unlike any I've ever seen.
Whether or not you've ever read a Jackie Collins novel, you're bound to appreciate her flair for jewelry, which was as over-the-top as her plot lines. Even the sale catalog is a page-turner!
A diamond, emerald, and platinum necklace, estimated at $40,000–$60,000
Diamond, emerald, white gold, and platinum earrings, estimated at $8,000–$12,000
An 18k bicolor gold Panthère collar by Cartier, estimated at $10,000–$15,000
An emerald, diamond, and platinum plaque clip brooch, French, estimated at $20,000–$30,000
An Art Deco diamond, black onyx, and platinum bracelet, estimated at $7,000–$9,000
A very rare diamond and platinum wristwatch by Patek Philippe
News Source : jckonline.com