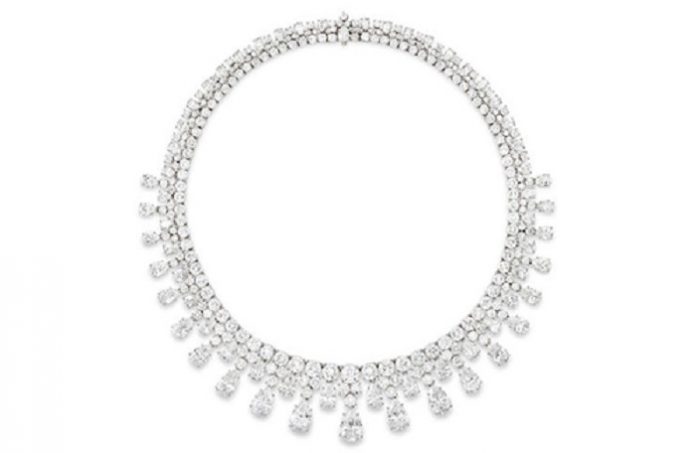 Come September takes on a new exquisite allure in Bonhams lexicon as the auction house lines up two sales featuring noteworthy jewellery in this month: Bonhams Fine Jewelry New York on September 21 and Bonhams Fine Jewelry London on September 26, 2018.
The New York auction will feature jewellery from the estate of Katherine Domyan, the internationally renowned two-time Olympic gold medal winner.
The vibrant collection comprises more than 60 pieces of jewellery dating from the 1970s to the early 2000s. The jewellery, Bonhams says, is "part of the collection which was purchased by Katherine and her husband Arpad throughout their 56-year marriage as they travelled between New York, Beverly Hills, Paris and the South of France".
It includes noteworthy creations from some of the world's most famous jewellery houses including Harry Winston, Van Cleef & Arpels and David Webb. The total estimate for the collection has been put between US$ 2,100,000 and US$ 3,150,000.
Caroline Morrissey, Senior Jewelry Specialist of Bonhams New York, says: "The collection tells a wonderful story of an amazingly successful woman and her husband who rose to the very top of their sporting careers and then went on to be equally successful as they built their real estate business in their new homeland of America."
Also soon to on the anvil — this time on September 26, 2018 in London — is what Bonhams describes as "An exceedingly rare and exceptionally beautiful fine Fancy Pink diamond weighing 5.03 carats". The square-cut Fancy Pink diamond, VS1 clarity, is estimated at £600,000-800,000.
Emily Barber, Director of Jewelry at Bonhams UK, said: "This pink diamond, offered at auction for the first time, possesses an exceptional combination of characteristics. It is extremely unusual to find a pure pink diamond, of even saturation, with no secondary component colors, weighing over 5.00 carats. This diamond's significant size and elegant, unmodified square cut, coupled with its high clarity grade distinguishes it further. It is of extraordinary beauty."
There will be more colour too in the London sale. Bonhams says it will also be offering a Fancy-Coloured Diamond Three-Stone ring, circa 1910, for sale. "The central old brilliant-cut Fancy Blue diamond, weighing 0.95 carat, is set between Fancy Yellow-Orange arquise-cut diamonds, weighing 0.51 and 0.56 carats, and is estimated at £80,000-120,000," the auction house stated.
Bonhams added: "A selection of bracelets, necklaces, brooches and rings from some of the biggest names in jewellery including Cartier, Van Cleef & Arpels, Bulgari and Chopard will also go under the hammer in the sale."
There are too many notable and delectable pieces in this auction to be described here. Let us only say that it will prove to be a veritable treasure trove for connoisseur buyers.
News Source: gjepc.org