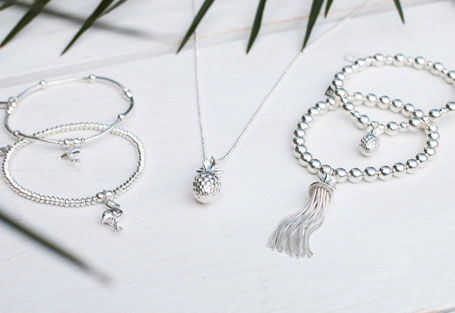 Boho-luxe jeweller ChloBo is set to launch Under The Palms, a high summer jewellery capsule inspired by catwalk fashion.
Under The Palms capsule features eight handmade pieces, all 925 solid sterling silver and the highest quality rose gold plating. The charms include the flamingo, pineapple and palm tree heart.
The capsule also features a pineapple pendant on a diamond cut chain which is weighted to move with the wearer, creating a strong statement piece.
ChloBo founder and creative director, Chloe Moss said:"This is the first ChloBo high summer capsule and I am loving the fun and energy around these pieces. The charms are definitely made for the real collectors (and flamingo fans) as the eight pieces include a unique flamingo charm which isn't sold anywhere else. I hope everyone enjoys wearing Under The Palms as much as I enjoyed designing it".
Under The Palms starts at £66 and launches in store and selected online retailers on Saturday, July 8.
News Source: professionaljeweller.com