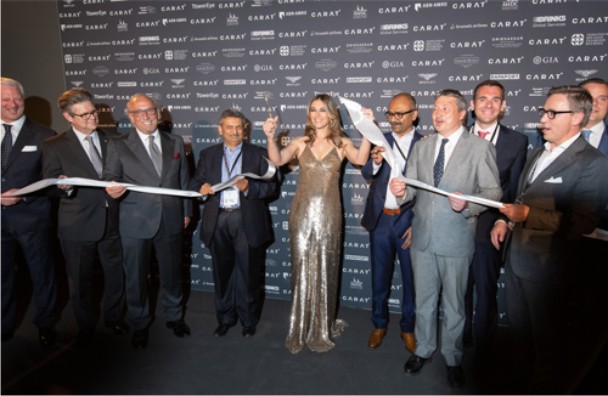 The Carat+ 2018 which commenced on May 6, 2018 at Antwerp saw 2,400 visitors attending on the first day, the show organisers said.
Holition CEO Jonathan Chippindale gave the keynote speech on the inaugural day of show.
This was followed by the results of a three-day Hack4Diamonds event, hosted by Carat+ Main Partner Antwerp World Diamond Centre (AWDC) and Junction.
On the evening of the first day, a grand event was held – the Carat+ Night – which was inaugurated by model and actress Elizabeth Hurley, the Chief Guest for the event.
"Hurley, who dazzled in a gold sequinned dress and Cascade collection jewels by Carat+ exhibitor, Roberto Coin, formally opened the show by cutting a ceremonial ribbon," a press release from the Carat+ organisers described. "She was then led on a guided tour of the show floor, visiting leading exhibitors and discovering some of the most exceptional diamonds, fancy colour diamonds and coloured gemstones on display."
A brief press conference was also held, at which Hurley noted how her career as an actress and model has presented "unique opportunities to wear exceptional high jewellery".
Hurley was joined by Easyfairs CEO and Founder, Eric Everard, to reveal a very special show surprise – a procession of vintage and classic cars driven through the Carat+ show floor. "This unique sight – believed to be a trade show first for the sector – created a buzz of excitement supported by flowing champagne, ample food and a DJ," Carat+ said.
Filip Van Laere commented: "The second edition of CARAT+ has so far been a phenomenal success and I look forward to seeing how the rest of our show progresses. I would like to thank the wonderful Elizabeth Hurley, all our exhibitors, visitors, special guests and team members who made Carat+ Night the talk of Antwerp and the entire diamond sector."
Pic Cap: Elizabeth Hurley inaugurating the Carat+ Night
News Source : gjepc.org