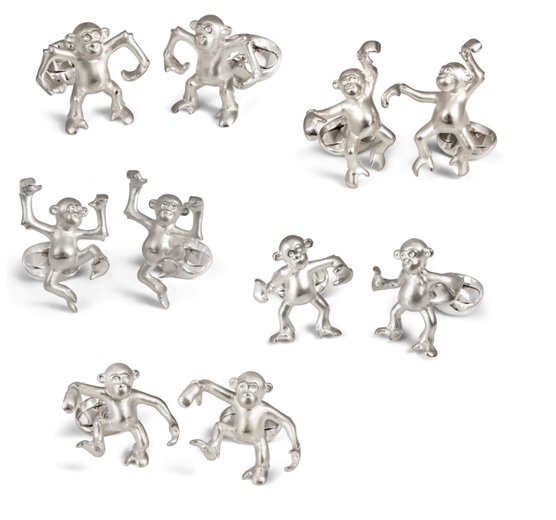 British-based designer and manufacturer Deakin & Francis has expanded its cufflinks offering with five new moneky-styled designs.
Each of the new designs were created with a different team member characteristics in mind, with the monkey motif cufflinks bearing similarities to the company's managing director, financial director, creative director and two sales directors.
Creative director, James Deakin, comments: "If anyone knows Deakin & Francis, they will know we try not to take ourselves too seriously and what better way of doing so than creating a whole collection of monkeys based on our very own team.
"Tongue in cheek of course, we wanted a collection of designs that would put a smile on the wearers face – a cheeky glimpse of a personality. Each pose is slightly different, but will look perfect hanging from a shirt cuff this summer."
All hand-crafted from sterling silver, this lively collection of monkey cufflinks have been crafted to the highest quality and feature domed oval spring link fittings with a full set of Deakin & Francis hallmarks for authenticity.
There'll be no monkey business for consumers with the cleverly designed 'Henry' pair of cufflinks (above). Just like the brand's managing director, these are a determined and driven pair of monkeys. With a bold and daring stance, they are not afraid to take a few leaps!
Jumping from one idea to the next, the happy chaps above have similarities to 'James,' creative director. Lively and playful they are often seen out and about exploring the wilderness.
A sociable character, like 'Tom,' sales director, these monkeys are always on the move. Energetic in nature, their legs are posed ready to dance from one appointment to the next.
A little more reserved in nature, these relaxed monkeys feature similar traits to 'Chris,' financial director. Deep in thought, these designs show a strong stance with hands ready to jump onto the next task.
More fun than a barrel of monkeys – friendly and approachable like 'Steve,' Sales Director, the designs above are bubbly and buoyant with a mischievous spring in their step – perfect for consumers looking to liven up any attire.
Each pair has a trade price £90 and RRP £220.
News Source: www.professionaljeweller.com