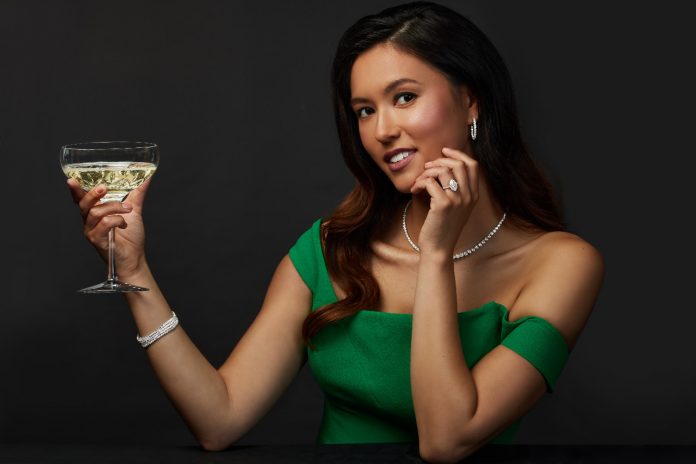 KEANES JEWELLERS TEAMS UP WITH NEW CHAMPAGNE FILM FOR 007 INSPIRED MARKETING CAMPAIGN. IRISHMAN FRANK MANNION MAKES A SPARKLING DEBUT ON THE CRITICALLY ACCLAIMED FEATURE DOCUMENTARY, SPARKLING: THE STORY OF CHAMPAGNE
The critically acclaimed feature length documentary, Sparkling: The Story of Champagne will be released in Irish cinemas on September 24.
Swipe Films, known for its immersive marketing campaigns, has put in place an innovative marketing campaign: a series of immersive preview screenings sponsored by Keanes Jewellers and O'Briens. As a special tribute to Diamonds Are Forever (where the literary James Bond first encounters Bollinger), Keanes Jewellers are providing a diamond pendant that will be placed at random in a champagne glass – one lucky cinema-goer will find and keep it at each of the preview screenings at Omniplex cinemas in Cork and Limerick and Dublin on September 23. Swipe also has a limited edition 007 No Time To Die Bollinger Gift Box to offer as a prize, as well as a "Win a Weekend in Champagne" at the 5 star Royal Champagne Hotel & Spa (voted number 1 Resort in Europe by Conde Nast Traveller), open to those who buy cinema tickets for the film.
"These activations are specifically designed to drive footfall to Irish cinemas in these restrictive times. So fingers crossed! It has been a thrill to work with our cross-promotional partners Keanes Jewellers, O'Briens, and Omniplex on the Irish release. In the run up to the opening of No Time To Die on September 30, we hope cinema-goers will enjoy these Bond themed promotions. Everyone who sees the film at the preview screenings on September 23rd will receive a glass of champagne from the likes of Bollinger, Taittinger and Charles Heidsieck."
Anna Therese, Swipe's Head of Marketing says.
Irishman Frank Mannion makes his directorial debut. The film features a stellar ensemble cast including Stephen Fry and the A-List from the world of champagne – Taittinger President Vitalie Taittinger, Dom Perignon wine-maker Vincent Chaperon, Jean-Baptiste Lecaillon, Sir Nicholas Soames, the grand-son of Winston Churchill (who famously drank over 40,000 bottles of Pol Roger in his lifetime), and the Queen's winemaker, Tony Laithwaite. The film-makers were given unique access to film at the Queen's vineyard at Windsor Great Park. The English language film was shot on location in France, England, New York and Los Angeles.
The film was released to great critical acclaim in US and UK cinemas earlier this summer and was described "as a film of the finest vintage" by the Mail, "a lush valentine to French bubbly" by the New York Times, "a sparkling debut" by the Guardian and "beautifully shot, thoroughly researched, and above all a good time, full of amusing anecdotes and exotic locales to quench the thirst of a significant built-in audience" and a "zippy documentary" by the Financial Times.
Frank Mannion, director says:
"The film is a love letter to the joys and pleasures of champagne. We were fortunate to be able to shoot during lockdown as champagne producers were classified as essential workers! Hopefully Irish audiences will enjoy immersing themselves in the world of champagne while raising a toast to better things ahead."
Major champagne houses featured include Piper Heidsieck (Marilyn Monroe's favourite & long-time sponsor of the Cannes Film Festival), Bollinger (which has appeared in 15 James Bond 007 movies including No Time To Die), Taittinger, Charles Heidsieck, Dom Perignon, Cristal, Pol Roger, JAY Z-owned Armand de Brignac and Brad Pitt's recently launched Champagne Fleur de Miraval, and various English wineries, as well as the Limerick native Dermot Sugrue (the award-winning wine-maker at Wiston Estate and Sugrue South Downs). The film-makers also had exclusive access to the Queen's vineyard at Windsor Great Park where they discovered that the Queen proudly serves her sparkling wine at Buckingham Palace.
Synopsis:
Sparkling: The Story of Champagne, directed by Irishman Frank Mannion, is a love letter to champagne, featuring Stephen Fry and a host of big names from the champagne world as well as exclusive access to the Queen's vineyard at Windsor. It examines the controversial theory that the English actually 'discovered' champagne decades before Dom Perignon exclaimed "I can taste the stars." It also looks at the impact of climate change – the champagne region is gradually becoming too hot, leading to the likes of Pommery and Taittinger planting vineyards in the south of England. By exploring the origins of the tipple, the film provides a surprising take on Anglo-French relations.
Trailer:
SPARKLING: THE STORY OF CHAMPAGNE WILL BE EXCLUSIVELY IN IRISH CINEMAS FROM SEPTEMBER 24TH.