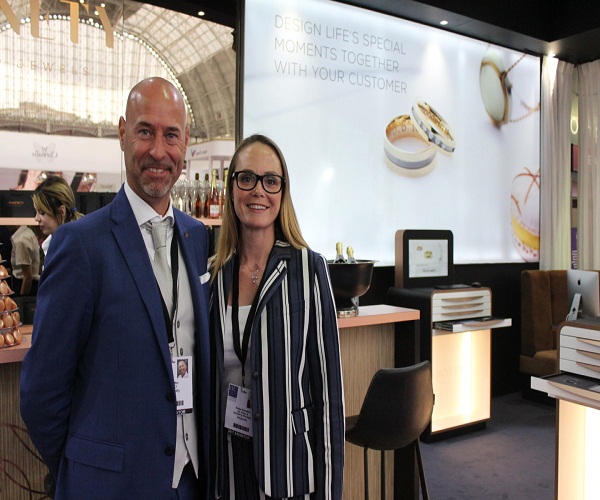 As Insignety lands in its first UK stores, we met with sales and marketing manager, Amber Saunders, to find out how the new brand on the block is shaking up the luxury jewellery market.
Insignety launched into the UK with a bang, pulling out all the stops to attract trade professionals to its stand at International Jewellery London.
During the show the stand was buzzing with excitement as jewellers from independents, to national jewellery retailers, were captivated by the brand from Amsterdam, which marries golden-age craft skills and state-of-the-art technology to offer consumers a completely bespoke, high quality, piece of fine jewellery.
For those who have not yet managed to see the brand in action, Insignety provides retailers with all they need to create one-of-a-kind jewellery pieces with their customers, through a fun and interactive process.
In fact, in just four easy steps, shop floor staff can collaborate with clients to create and customise jewellery in real time using a cloud-based design tool.
Unsurprisingly, jewellers were keen to place Insignety in store right away, but the brand strategically planned to not sign anyone up at the show. Instead, the team spent time meeting with potential partners and analysing what stores would be the right fit.
Now, a little over six months later, Insignety has landed in its first five stores.
The first retailers to stock the brand are Winchester-based Jeremy France, Bournemouth-bound Michael Matthews, Paul James Jewellers in Oxted, and Allum & Sidaway's Salisbury flagship and Ringwood boutique.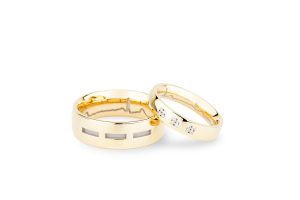 Discussing how Insignety has selected what jewellers to partner with, UK sales and marketing manager Amber Saunders, tells Professional Jeweller: "Before we went to IJL we kind of had a list of identified retailers from my experience in the trade and knowing the brand, that I thought would work well together. We've basically gone through that list, and the list of people who showed interest at IJL, and arranged follow ups to see how the brand would work in those store environments.
"Being gold and platinum, and the diamond quality being D,E,F, VVS, we are pitching ourselves at the affordable luxury area of the market. So predominantly we were looking at the watch brands retailers stock and the quality of their diamond jewellery," Saunders continues.
Insignety currently offers retailers two package options — a small design pack, and/or a larger consult with a built in screen.
Despite jewellers already showing interest in shop in shops, due to the logistics of this the first stores stocking Insignety are those with one or both of the plug-and-play solutions, which Saunders says is looking great inside the independent's boutiques.
"All the consoles and design packs look great in the retailer's stores, which is fantastic first off. The retailers we've gone for have all got beautiful stores that represent their own brand very well, so it's nice for Insignety to be put alongside them."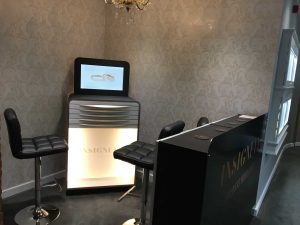 Although Insignety had only landed in store a couple of weeks prior to meeting with Professional Jeweller, the brand had already pulled in sales for its first retail partners, with the majority making a transaction in the first couple of days.
"Every retailer has already made a sale within the first day or two," reveals Saunders. "I expected they would be making sales but not literally the next day, I thought they would want breathing space to get used to the brand and its software, but they've actually gone straight in and not only have they been doing design sessions but they've actually got orders out of it as well.
"Literally, I went in to one of our partners to do training on a Thursday, and then they had their first sale the very next day."Feedback from the debut retailers reveals customers love the interactivity of the brand, and the opportunity to work with retail staff on a bespoke product, while the shop floor team are enjoying the experience too.
Jeremy France Jewellers director, Harriet France, says: "The response from staff and customers has been fantastic. We were the first company in the UK to sell Insignety; our sales person least confident with technology sold the first ring which just goes to show that it's a simple, easy to understand system."
"The customers were delighted with the system and it really allows us to get to know the customers on a personal level," France shares.
Managing director of Allum & Sidaway, Jason Allum, adds: ""We first saw the Insignety collection being demonstrated at IJL last year and we were very impressed with the software and scope of personalisation options available. We utilised wedding fairs earlier in the year to promote the concept and received really promising feedback, so we eagerly anticipated the store installations.
"We have only had the units fitted for a couple of days and initial staff training has taken place, but we sold our first pair of wedding rings on the first day after training."
The Insignety team are with retailers every step of the way, from installation and training, to offering in-store and marketing support.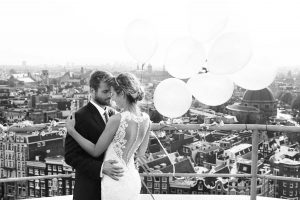 Saunders shares of the brand's support: "From a retailer agreeing they want to partner with us we work out with them a convenient installation time, and a convenient training time, and we do everything for them. So we turn up, we unpack everything, we connect it all up, download the software, set them up as users, so when we walk away they are able to use the software and everything works. We also test everything from the software to the finger scanners and heartbeat detector, so that even if we aren't doing the installation that day the staff can still play around and get familiar with everything."
From there, Insignety gives the team an in-depth demonstration and runs through everything they need to know.
Once the team are happy and comfortable and everyone has had time to use the software and highlight any concerns or questions they might have, Insignety returns to the store to do more training. This time frame is dependent on the retailer and when they would like extra coaching.
In terms of the software, this is updated every quarter and will happen automatically, but if any drastic changes are going to be made the team will schedule an appointment with its retailers to go through these. The brand also welcomes feedback on how it can improve the software for the UK market.
On the marketing front, Insignety has a wide variety of images available – including lifestyle, products and behind-the-scenes – and catalogues, logos, and social media post support at hand.
Additionally, if a retailer needs a specific graphic for its store, Insignety will supply those too, and for the future the company is looking at e-learning to further support its partners, and its next big step is to focus on marketing to the end consumer to raise brand awareness and drive footfall into stores.
"The goal is to build Insignety as a brand," shares Saunders. "That is a huge part of our strategy moving forward. We need to start ensuring Insignety is getting spoken about by consumers. The awareness has got to be out there."
Another goal for the brand is to be in around 40 stores in the next 12 months. That being said, Insignety is not looking to rush.
"We are being very careful about who we agree to partner with and we want long term partners. We don't want to just open as many doors as possible. Our strategy is very much slow and steady and strategic.
"By the end of the first 12 months of going live in the UK we want to be in 40 stores, but we would be quite happy to go to about 60," concludes Saunders.
News Source:- professionaljeweller.com