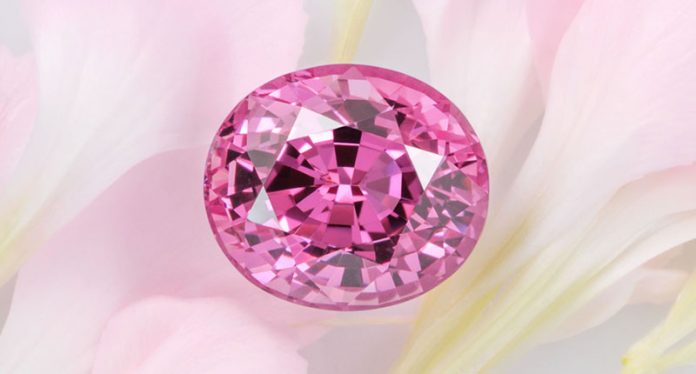 Every year in Tucson during the gem shows, Gemworld International gives an update on market trends and other pertinent topics in the gem sector.
This year, President Richard Drucker and Vice President Stuart Robertson addressed the health of the global market and which stones are resonating with consumers right now.
Here are six points they covered during their session at the AGTA GemFair jewelry trade show.
1. The U.S. market is changing.
Robertson said price points in the market have been lower of late as the American wealth structure has changed.
The U.S. is still the main market for the gem world, but more high-quality pieces are selling overseas now. The condensing of the market, due in large part to the internet, and the increased competition it has bred has also been a driver for this change, he added.
There have been record prices in certain categories, especially at auction, which is "skewing the perception of the overall market." These strong sales represent the top end of the market only, he said.
2. The "new" industry is doing a good job telling the stories behind the gems.
Young members of the industry understand the importance of gem sourcing and of bringing the story in front of the consumer, Robertson said.
Today's designers have little interest in memo because that's not the way they're doing business—they're buying small amounts and operating out of small galleries or studios, focusing more on jewelry as art and paying for things as they go.
"Companies that are operating mostly on memo goods have really no vested interest in understanding the story or understanding sourcing in this industry because they have no connection to it. Their money is not on the line; they have other people's money on the line. That's an interesting contrast that we've been able to note here," he said.
3. There is stricter enforcement of mineral industry regulations in important source countries.
The increased control of gem material by source countries is driven by a need to create more beneficiation for the local communities, Robertson said, noting that some of these countries are starting to realize the importance and value of their natural resources.
Many are now evaluating their industries, and programs to add beneficiation are spreading across countries like Burma, Tanzania and Ethiopia.
This will ultimately result in higher prices for the trade but "for probably the right reasons," he said.
4. The sector is seeing the two-tier market continue.
The market for high-end, natural goods is strong because supply is tight, especially in the case of ruby, emerald, sapphire and Paraiba tourmaline.
The lower end—meaning both lower-quality goods as well as less expensive gemstones, like blue topaz and citrine—is overproduced and prices are soft, Robertson said, noting that it is losing market share to unique stones and lesser-known gems that are about the same price.
The middle portion of the market, traditionally the bread-and-butter of the industry, has been "disappointing" the last few years. It was moving upward but then went flat last year and is fairly weak again.
5. Here's what's happening with the "big three."
In Burma, ruby production has been strong again as miners aim to produce enough material before the country's expected regulations kick in.
Supply in East Africa is very strong, with the main source continuing to be Mozambique, where large-scale production is displacing much of the artisanal mining.
For now, the ruby market is stable, Robertson said, but noted that demand and prices are slightly lower for heated stones.
And whereas ruby traditionally has occupied about 20 of the market share that sapphire does, there's been so much production in recent years that it's nearly on par with sapphire now, Robertson said.
This will be important for pricing of rubies going forward, especially as the question remains of whether demand will be there to support such strong supply.
"I think that does have some implications for the pricing going forward because the reality is there's really nothing to suggest that the appetite for the material will equal that for sapphire. Long-term we do expect prices to soften, especially on heated material."
Sapphires, meanwhile, are still the top-selling gem in the world market, especially in the West. The blue and blue-green/teal sapphires continue to be popular.
There's a decent supply of sapphire as Asian and African sources continue producing. Pricing for natural stones have gone up, especially the higher-grade material, and are likely to continue to rise as source countries tighten control.
While demand for emeralds was better than expected in 2018, that excitement is starting to wane, Robertson said—treatment issues for emeralds are the most confusing among the big three and have led to an ongoing debate in the trade about how they are disclosed and communicated on lab reports.
Colombian emeralds remain the benchmark for pricing of all emeralds, he said.
Ethiopian emerald production has slowed as the government assesses its resources, while Zambian production is "OK" and production from Brazil is small.
6. Here are the market's "must-haves."
Pink- and red-colored gems continue to be in demand, with consumers increasingly purchasing by color rather than gem varietal, Drucker said. This has boosted demand for stones like morganite, spinel and tourmaline.
He added that blues are always reliable sellers and gemstones in peach/soft orange shades are doing well. However, the key for the market is to be different when it comes to gems, offering sapphire slices or other unusual materials.
Garnets are seeing a resurgence in popularity—with rhodolite making a splash with designers, and spessartite and tsavorite among the top-selling gems in their color categories—as are other shades of zoisite, building off the high demand for tanzanite.
NewsSource: nationaljeweler