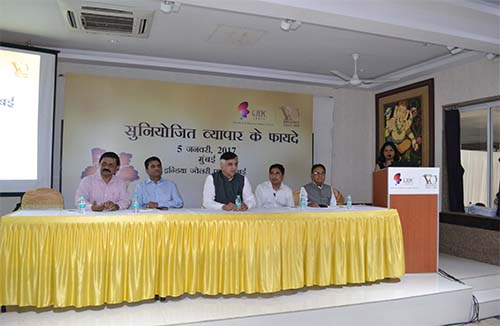 The Gem & Jewellery Export Promotion Council organised a seminar in Mumbai on January 5, 2017 on the topic "Benefits of Organised Trading" in order to create awareness about the benefits of cashless transactions, being compliant with income tax laws, as well as about conducting business in an organised manner.
The seminar was organised particularly for the benefit of that section of the trade who are not members of the GJEPC; but who have, nevertheless, been contributing to the growth of the gem and jewellery industry, thereby playing a significant role towards the success of the "Make in India" initiative.
Dwelling on the significance of the seminar, Praveenshankar Pandya, Chairman GJEPC said, "It is important that every sector in India take the initiative to align itself with the Hon'ble Prime Minister Narendra Modi's vision of making India a cashless economy. The seminar was an effort to make our industry, especially people from the unorganised sector, understand the benefits of cashless transactions and schemes available for this sector."
Meenakshi Krishnamurthi, Regional Officer, SBI and Parekh Paleja, Relationship Manager, SBI, gave a presentation on cashless transactions as well as on SME policies.
GJEPC Chairman Paveenshankar Pandya briefed participants at the seminar about the Indian Jewellery Park project, which he said would be an important facility of world-class standards.
Sabyasachi Ray, Executive Director, GJEPC spoke about the GJEPC's CSR polices including schemes like Swasthya Ratna and Parichay Card.
The participants were also provided with information about income tax regulations by Heena Gandhi from V. A. Parikh & Associates LLP, who also addressed their queries on compliances.
The seminar was moderated by Dr. Jitarani Udgata. Mansukh Kothari, Co-Convener of the GJEPC's Gold Jewellery & Other Precious Metal Jewellery Panel Committee presented a vote of thanks at the conclusion of the seminar.
News Source : gjepc.org