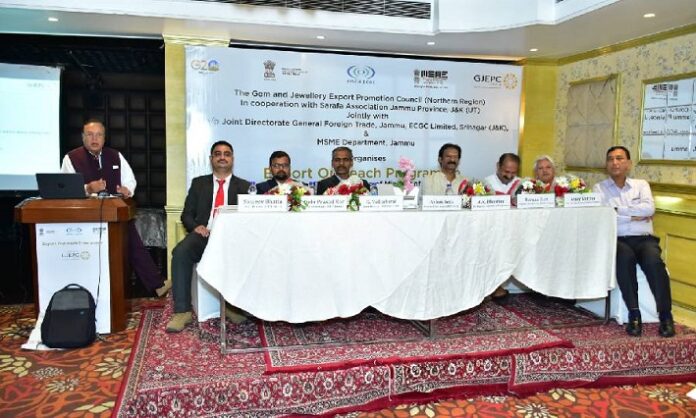 GJEPC's New Delhi Regional Office partnered with the Sarafa Association Jammu Province, along with the Office of Jt. DGFT Jammu, ECGC, Jammu, and the Office of Director MSME Jammu, to organise an Export Outreach Programme. This event took place at Hotel KC Residency in Jammu on 27th September 2023. The Outreach Programme drew the participation of around 70 attendees.
Mr. Ashok Seth, Regional Chairman of GJEPC's Northern Region, welcomed the government officials, association members, and participants gathered on the occasion. The guest speakers included Mr. A.K. Bhushan, Deputy Director General of DGFT, Jammu; Mr. G. Velladurai, Joint Director of MSME DFO J&K; Mr. Debi Prasad Kar, Branch Manager of ECGC, Jammu; and Mr. Raman Suri, President, along with Mr. Rakesh Mahajan, Senior Vice President, and Mr. Vijay Verma, General Secretary of the Sarafa Association Jammu Province.
The speakers explained key aspects such as registration procedures for IEC (Import Export Code), Udhyam Aadhar, key points of the Foreign Trade Policy (FTP), MSME schemes, ECGC benefits,
Mr. Seth emphasised the significance of registration and membership with GJEPC and underscored the benefits available to registered GJEPC members. Mr. Sanjeev Bhatia, Assistant Director of GJEPC (North), provided a comprehensive overview of GJEPC's activities, including IIJS Premiere, IIJS Signature and IIJS Tritiya, Buyer-Seller Meets, International Exhibitions, Jewellery Park, Banking & Gold Summits, Export Performance & Artisan Awards. He also shared the Council's role and vision in the industry.