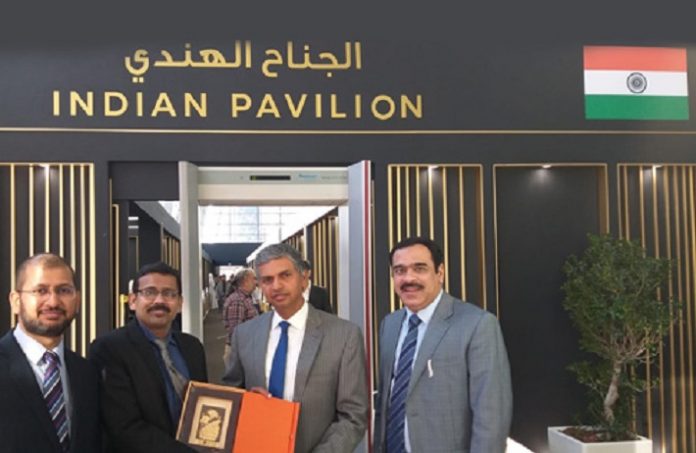 The first ever India Pavilion at the Doha Jewellery and Watch Exhibition was opened yesterday by HE the Prime Minister and Interior Minister Sheikh Abdullah bin Nasser bin Khalifa al-Thani along with Bollywood star Aishwarya Rai Bachchan, the brand ambassador of Qatar Airways, in the presence of Indian ambassador P Kumaran. The 16th edition of the newly rebranded show is taking place from February 20-25, 2019 at the Doha Convention and Exhibition Centre.
The pavilion is being hosted by The Gem & Jewellery Export Promotion Council (GJEPC), with its first-ever participation in the show marking the ongoing Qatar-India Year of Culture 2019.
With 13 exhibitors from among India's leading jewellery manufacturers, the pavilion displays the complete range of products offered by the country including studded jewellery with gemstones such as rubies, emeralds, sapphires and pearls; plain and handmade jewellery catering to the tastes of consumers in the Middle-East and neighbouring regions; and a wide selection of contemporary, modern jewellery, inspired by trends in the European and Middle Eastern markets.
India Pavilion at the show includes L.S. Enterprises; Noor Jewels; Jagan Nath Hem Chand; Sital Dass Son; Iris Jewels; Amore Jewels Pvt. Ltd.; K.K. Jewels; Lotus Gem; Shrians Jewels; Divya Jewels; AKM Mehrasons Jewellers; De'viva Jewels; Champalal and Co. Jewellers.
In a statement to the local media on the occasion, Indian Ambassador Kumaran said, "Indian gems and jewellery sector offers high quality and technical know-how to attract the attention of Qatari buyers who appreciate exquisite craftsmanship and intricate design patterns."
Drawing attention to the visits by Qatari families to India for their jewellery shopping, he added, "The DJWE provides a unique opportunity to bring the latest trends in this sector to Doha and showcase their products in one of the most important markets in the region. We hope to see more participation by the Indian jewellers to Qatar in future."