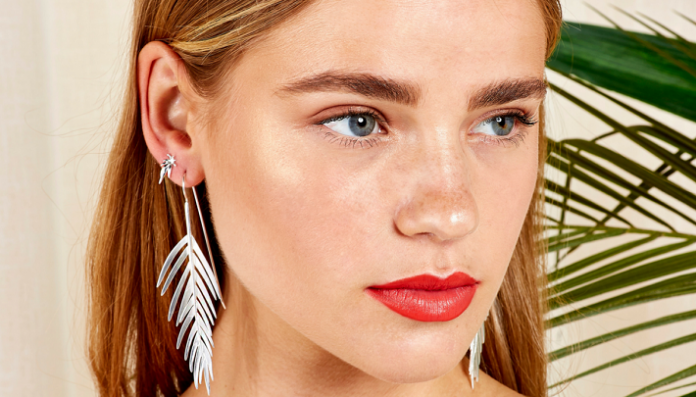 British jewellery brand Henryka has unveiled its new Exotic Palm collection for SS18.
The latest launch from the brand captures the shape of tropical leaves and palms in sterling silver and marks a new design direction for Henryka.
At the heart of the collection are the eye-catching Areca Palm Leaf earrings, available in both small and large sizes. These are complemented by daintier pieces, including the Split Leaf Palm necklace and Split Leaf Palm stud earrings, inspired by the Split Leaf Philodendron that is native to the tropical forests of Mexico.
The Palm Burst stud earrings, matching Palm Burst necklace and the Fallen Leaf Palm earrings offer a more abstract and contemporary take on the leaf inspiration.
Finally, the Dwarf Leaf stud earrings create a feminine fan-shape with teardrops of green amber set in sterling silver. Further pieces set with natural gemstones will be added to the collection over the coming months.
These bold, nature-inspired motifs are completely new to the brand and highlight its continued development since rebranding in August 2017.
Each piece has been carefully designed to suit the summer holiday season, as well as provide a statement for festival goers.
Anna Emmett, founder, and director of Henryka shares: "We are thrilled with the Exotic Palm Collection. It reflects the confidence we have gained since relaunching the look and feel of Henryka in 2017, while also staying true to our nature inspirations. Every aspect of the range, from the model imagery to the pieces themselves, are exactly what we wanted to deliver to our customers now that the warmer weather has finally arrived."
The Exotic Palm Collection is accompanied by professional model and product imagery and will be supported by Henryka's new website, due to launch in the coming months.