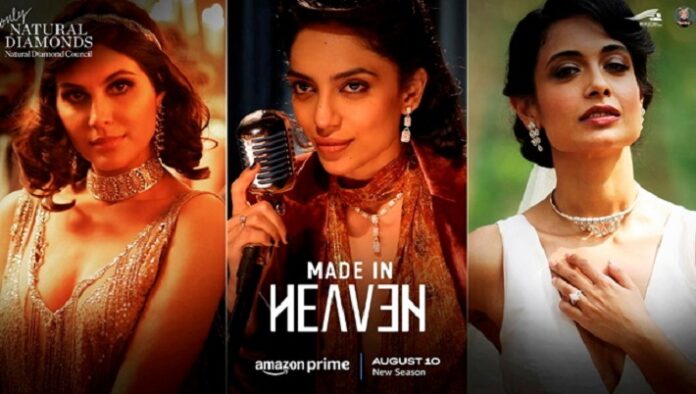 Made In Heaven, the hit TV show about a pair of Indian wedding planners, is promoting natural diamonds.
Stars of the second series of the romantic drama are wearing jewelry from six brands in a partnership with the Natural Diamond Council (NDC).
"We are always on the look-out for innovative methods of showcasing how integral the wonders of nature are to every key moment of our lives," said Richa Singh, Managing Director, Natural Diamond Council.
"And what is more precious or memorable than a wedding?"
Vishal Ramchandani, CEO of the show's production company, Excel Entertainment, said teaming up with the NDC was "quite the perfect match".
The seven-episode series, now available on Amazon Prime Video, promotes natural diamonds from Khanna Jewellers, Anmol Jewellers, Jaipur Gems, Khurana Jewellers, Om Jewellers and Gaurav Gupta Occasions Jewellery.
The show launched in 2109 and follows Tara and Karan, wedding planners who run an agency in Delhi called Made in Heaven.