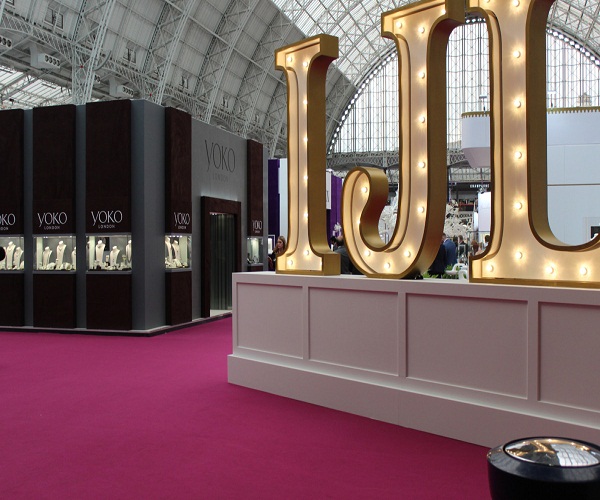 In celebration of emerging jewellery designers International Jewellery London has selected four upcoming jewellers to showcase at the 2018 show.
This year's Bright Young Gems have been named as Katharina Kraus, Zeemou Zeng, Daisy Grice and Yayun Fang.
Now in its fourteenth year, the Bright Young Gems project provides the winners with the opportunity to showcase their work at the upcoming trade show,
alongside other benefits such as dedicated mentoring from jewellery experts before the event to ensure that they maximise the experience.
The Bright Young Gems are selected from final year students and students from UK colleges and universities who have graduated in the past two years, by a
preeminent panel of judges comprising Hilary Alexander OBE, editor-at-large Hello Fashion Monthly; Annabel Davidson, editor of Vanity Fair on Jewellery;
Alice Edwards, jewellery editor for the Sunday Times Style and The Times LUXX magazine; Liza Urla, influencer and founder of Gemologue and, for the first
time representing retailers, guest judge Henry Graham, creative director and co-founder of Wolf & Badger.
As always the standard and diversity of work presented was very high and two additional designers – Rosie Groom and Bella Smith – were named as Highly
Commended by the judges.
IJL event manager, Sarah Kitley-Spencer, comments: "This year's four Bright Young Gem winners illustrate the wonderful talent coming out of our universities
and colleges. Visitors to IJL always make a bee-line for the Bright Young Gems stand and I am so pleased that we can share the work of these very talented
young designers with them. Our thanks go to all the universities who entered and our judges for their support. Congratulations to the winners and we look
forward to seeing them on 2 September at Olympia."
This year's International Jewellery London takes place September 2-4.
This year's Bright Young Gems are:
Katharina Kraus
A graduate from the University of the Arts London Central St Martins, Kraus is distinguished by her cutting-edge handcrafted jewellery, using traditional
techniques and tools. She explores the natural light reflection in gemstones by placing different colours and light reflection styles in juxtaposition with
each other, to create visual effects that move and change when worn. The soft light reflections in the hand-carved stones contrast with the precise visual
effects of regularly cut gems. Altitude and elevation are central to Kraus' jewellery with each gemstone angled with or away from the body. This stems from
her fascination with the angled lines found in the architecture of cityscapes and the depth of carved lines in stone and concrete, when seen from the ground.
Zeemou Zeng
London University of the Arts graduate, Zeng, designs contemporary fine jewellery and accessories using his wide knowledge of craftsmanship and different
materials (such as precious metals, glass, stones and porcelain) to create unique designs which possess both functionality and beauty. Having originally
studied interior and architecture design in China, followed by an MA course in Designer Making, his breadth of design studies have influenced the way he
approaches design, resulting in innovative and often surprising solutions.
Daisy Grice
Grice is a graduate of the Birmingham School of Jewellery with a BA (Hons) in Jewellery and Silversmithing. After working in the industry for two years, she
returned to the school and to learn 3D computer aided design and is now able to combine both her traditional bench skills and modern technology to produce
contemporary, statement pieces with a gothic aura. Grice has won an array of awards for her work and has a strong signature style, inspired by nature's
enchantments and gothic architecture with a twisted dark side she creates "jewellery for the original". When designing, she usually has a fictional persona
in mind, often pulling themes and characters from dark tales and fantasy films to inspire her work.
Yayun Fang
Fang. from the University of the Arts London Central St Martins, finds her inspiration for her jewellery designs in the craftsmanship of traditional lace
pieces seen in old paintings. By researching and learning bobbin lace making skills, she experimented with her own lace techniques that could be applied to
metal. Influenced by daily digital technology and inspired by classic hip-hop jewellery culture, Fang creates bold yet very delicate jewellery, using
traditional craftsmanship and digital software.
News Source:- professionaljeweller.com