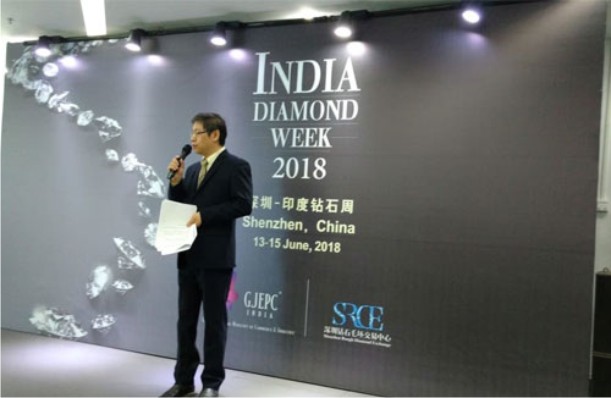 The India Diamond Week, organised by The Gem & Jewellery Export Promotion Council in association with the Shenzhen Rough Diamond Exchange (SRDE), opened this morning in Shenzhen. Twenty Indian diamond manufacturers are participating in the three-day event which will conclude on June 15, 2018.
During the event, jewellery manufacturers from Shenzhen as well as other parts of China are expected to interact with Indian participants and explore longer-term business relationships.
At the inauguration of the event today morning, Rong Julius Zheng, Vice President, SRDE and Guo Xiao Fei, Secretary General of Shenzhen Gold and Jewellery Association addressed the gathering along with Sanjay Singh, Regional Director, Rajasthan, who represented the GJEPC along with Naheed Sunke, Asst. Director, International Events.
Singh said that more such events will be necessary as the bilateral trade in the gems and jewellery sector between India and China expands. In 2017, the trade had reached a figure of US$ 21.41 billion, registering a growth of 29% year-on-year, with exports from India amounting to US$ 13.96 billion. He added that Shenzhen is the largest jewellery manufacturing hub in China housing nearly 5,000 companies. About 1,50,000 people are employed here, including nearly 15,000 individual traders and professionals.
The Chinese market has shown growth over the last year, said Guo Xiao Fei, adding that there is great potential for further increase in diamond jewellery consumption as nearly 10 million marriages take place each year.
In a departure from the usual practice of ribbon-cutting, the Indian participants and office bearers of the participating Chinese trade associations signed a backdrop created with posters of each of the exhibiting companies to mark the opening.
News Source : gjepc.org