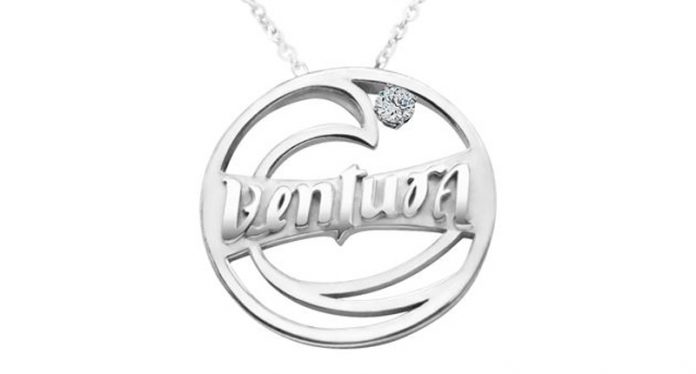 Ventura, Calif.–Fox Fine Jewelry's local community has been ravaged by California's Thomas Fire that began two weeks ago, and so this holiday season, the jewelry store is focused on bringing a small measure of joy to those most devastated by it.
The Thomas Fire has raged since Dec. 4. It currently is the third largest fire on record in California but is predicted to become the largest and expected to burn well into January.
Now, the Ventura, California store is giving away necklaces to the people who lost their homes in the fire. The necklace says "Ventura" and is accented with a white diamond.
On the Fox Fine Jewelry website, the retailer explains: "The (Thomas Fire) survivors might have their wedding ring, but usually nothing else. Our community was in shock and many rallied to help them through volunteering and donating. Our way of helping is to give them a diamond necklace. With hundreds already given away, one will see these necklaces around the community as a reminder that we are stronger together."
So far, about 300 people have claimed the necklaces, with the number rising.
As most jewelers contend with the busiest sales time of year, Fox finds itself in a very different place.
"We've had a very sad stream of people with horrific stories," owner Debbie Fox said. "It's really been very difficult. We've been grief counselors."
To keep up with demand, the Foxes are also selling their Ventura necklace to those who didn't lose homes but want to show their support; half of those proceeds go to the Thomas Fire Fund.
"The fire grew beyond Ventura the city, so we made another necklace that says 'Thrive 805' so we have options for wherever people live," Fox said, referencing the local area code.
The two necklaces retail for $300 each, with a non-diamond version of the "Ventura" necklace available for $100. The "Thrive" necklace also supports the Thomas Fire Fund with half of its proceeds.
When asked, Fox told National Jeweler that her "sales have been devastated," as the store had to close for a week due to the smoke. Since reopening they have largely been dealing with giving away necklaces–five to 50 a day so far.
About 1,000 homes were lost in the area.
While none of her staff lost their homes, "a lot of us were evacuated," Fox said, and when the store re-opened they had to contend with figuring out which employees were able to go into work and which roads they could access to get there.
News Source: nationaljeweler.com