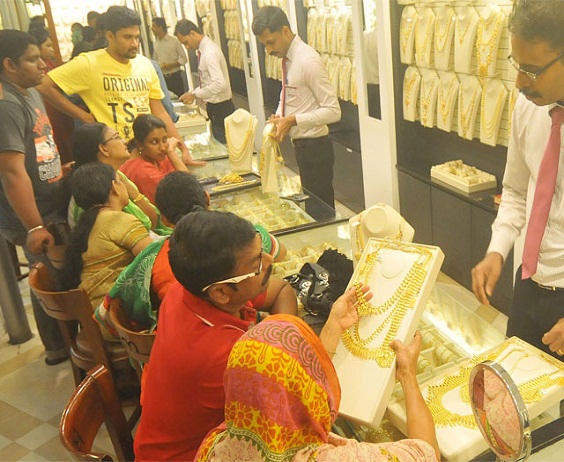 In a major relief for bullion dealers and jewellery retailers, the government has rescinded applicability of the Prevention of Money Laundering Act (PMLA) on purchases of precious ornaments above of Rs 50,000.
In a notification issued on Friday, the Ministry of Finance said, "The government has received representations from various associations in the gems and jewellery sector with respect to certain incongruities in the August 23, 2017 notification wherein dealers in precious metals, precious stones and other high-value goods were notified as persons carrying on designated business and professions under the PMLA. After considering various aspects of the issue, the government has decided to rescind the said notification."
The notification further added, "A separate notification after due consideration of points raised and wider stakeholder consultation in this regard, shall be issued separately."
The jewellery sector was reeling under severe stress since demonetisation of high-value currency notes in November last year. Jewellers reported a sharp decline of over 50-60 per cent decline in sales due to the implementation of the goods and services tax (GST) since July 1 this year. This was because the effective duty under GST was around 0.75 per cent higher than the applicable duty before GST. Besides, the applicability of PMLA proved to be another thorn in the side of the gems and jewellery sector.
"Rescinding of this notification is a big relief for jewellers and would help them do good business this festive season," Surendra Mehta, National Secretary, Indian Bullion and Jewellers Association (IBJA).
Jewellers normally await good business during the ongoing Diwali festivals which contribute around 30-35 per cent of their annual jewellery business. This year, however, Diwali festivals remained dull so far due to the lack of orders from consumers.
Under the PMLA, consumers needed to tender permanent account number (PAN) card and Aadhar card for purchasing of jewellery above Rs 50,000. At the current gold price, consumers were able to purchase not more than 15 grams weight of gold jewellery without tendering their know your customer (KYC) details including PAN and Aadhar cards.
"A large chunk of jewellery is purchased by women who save money from their monthly household expenses. Hence, women do not want to tender their PAN and Aadhar details for purchasing jewellery. Such class of consumers, therefore, remained absent from active purchase. With de-notification of PMLA applicability, jewellers would be able to offer festive discounts in making charges to attract customers. We expect a good business this Diwali," said Kumar Jain, director, Umedmal Tilokichand Zaveri, a bullion dealer and jewellery retailer in Zaveri Bazaar here.
Gold purchases of Rs 2 lakh and above will require submitting PAN details under the income tax provisions.