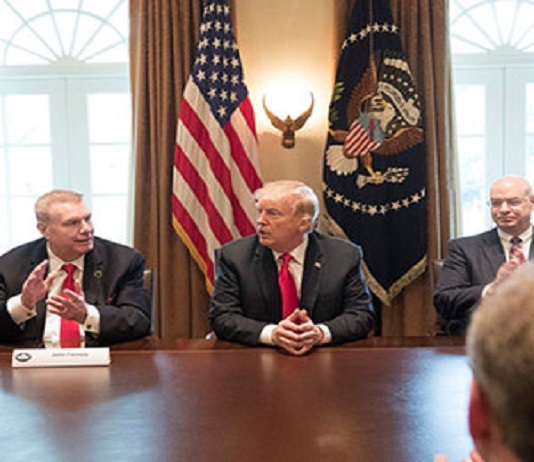 Twenty-five leading retailers—including Macy's, J.C. Penney, Kohl's, and Walmart—have appealed to President Trump not to slap tariffs on Chinese products, saying the resulting increase in prices would hurt American consumers.
"In the U.S., those who can afford less pay more because the U.S. levies the highest tariffs on basic consumer goods," the letter said. "For example, families shopping in our stores pay higher prices because America already levies import taxes as much as 32 and 67 percent on basic clothes and shoes. Applying any additional broad-based tariff [would] punish American working families with higher prices on household basics like clothing, shoes, electronics, and home goods."
The letter was organized by the Retail Industry Leaders Association.
The National Retail Federation has expressed similar doubts, calling the tariffs a "self-inflicted wound" on the American economy.
"A tariff is a tax, plain and simple," said president and CEO Matthew Shay in a statement. "In this case, it's an unnecessary tax on every American family. The retail industry is extremely concerned by the administration's apparent desire to ignite a trade war, where the net losers will be the very people the president wants to help."
On March 22, President Trump said he would direct the U.S. trade representative to levy  25 percent tariffs on about $50 billion worth of Chinese imports, in retaliation for what he called China's lax enforcement of intellectual property laws.
"We have a trade deficit, depending on the way you calculate, of $504 billion," the president said. "Now, some people would say it's really $375 billion. Many different ways of looking at it, but anyway you look at it, it is the largest deficit of any country in the history of our world. It's out of control. We have a tremendous intellectual property theft situation going on, which likewise is hundreds of billions of dollars."
In response, China announced new tariffs effecting $3 billion in U.S. goods. They will reportedly include a 25 percent tariff on U.S. pork imports and recycled aluminum, as well as 15 percent tariffs on American steel pipes, fruit, and wine.
"China does not want a trade war with anyone," said a statement from the Chinese embassy in Washington, D.C. "But China is not afraid of and will not recoil from a trade war…. If a trade war were initiated by the US, China would fight to the end to defend its own legitimate interests with all necessary measures."
Regardless, the president said he was determined to go ahead, tweeting that trade wars are "good, and easy to win."
(Image courtesy of the White House)