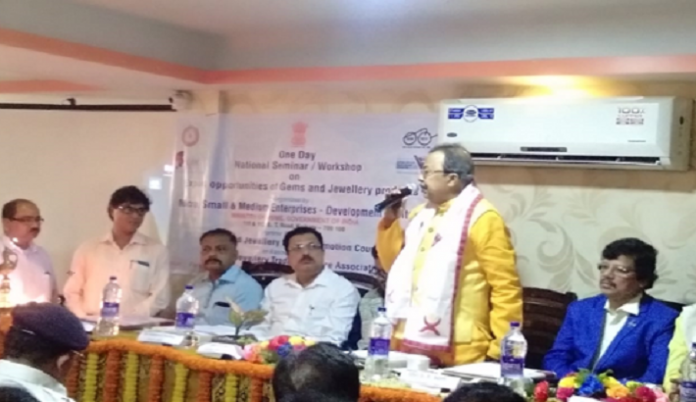 The MSME Ministry of Government of India, in collaboration with The Gem & Jewellery Export Promotion Council (GJEPC) and the Howrah Jewellery Traders Welfare Association, hosted a National Seminar on Export Opportunities for the Gems & Jewellery Sector at Kolkata on Feb 26.
The seminar was presided over by Chief Guest Shri Arup Roy, a minister of the West Bengal government and also attended by a number of senior functionaries of the MSME ministry.
Key presentations were made by Mr. Alok Adhe, Chairman HJTWA and GJEPC representative Mithilesh Pandey, Director. While the former spoke about the strengths of the industry in West Bengal and its development, the latter covered the various activities of the Council and highlighted the enormous potential in the export sector.
The presentation covered welfare schemes of the Council such as Parichay Card, Swasthya Ratna and Swasthya Kosh medical insurance schemes as well as the trade promotion activities including Common Facility Centres, Jewellery Park, IIJS Signature, IIJS Premiere, IGJME, the IGJS export show etc.
Pandey also explained the various government schemes to encourage MSME sector companies and to boost exports such as assistance for participation in exhibitions, Lean Manufacturing Competitiveness Scheme, interest subvention and other incentives, skill development programmes.
Other presentations were also made by officials from MSME-DI, ITPO, IIP, ECGC, GIA etc.
The audience comprising business persons, traders, journalists, artisans and entrepreneurs participated enthusiastically in the Q&A sessions at the end of the presentations.
News Source : gjepc