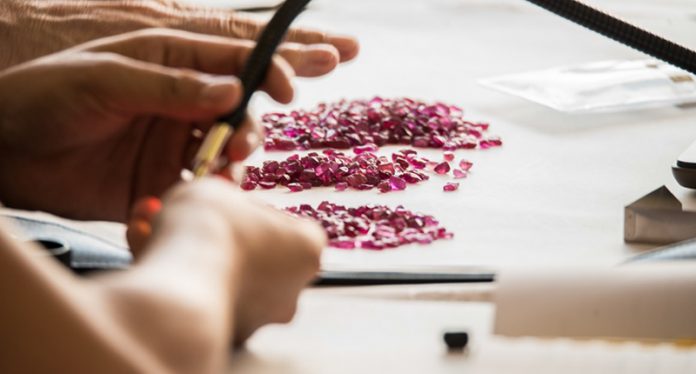 Sydney–Mustang Resources held its inaugural tender of rough rubies mined at Montepuez in Mozambique last week, and is less than thrilled with the results.
The tender was held between Oct. 27 and 30 in Port Louis, Mauritius.
Of 21 "schedules" offered, comprised of multiple lots, eight were sold. Bids for the remaining did not reach their reserve prices and will be held over to the next tender.
Mustang said it accepted bids for 29,463 carats of rough rubies ranging in price from $4.59 per carat at current exchange rates to $1,487.19.
Total sale proceeds are about $545,806 for the company, at an average per-carat price of approximately $18.52.
Mustang said the final results "reflected inadequate volumes in each category," adding that it now will focus on increasing the quantity of rubies it offers within those categories for which demand was the strongest.
Mustang's Managing Director Christiaan Jordaan called the tender results "clearly disappointing," but said the company has gathered valuable market intelligence for its future tenders.
"The feedback from buyers and the results make it very clear that we need to offer increased quantities of rubies in each category," he said. "This is because buyers and their jewelry customers need to be certain that there are enough similar rubies available to enable them to produce the required number of any particular jewelry item. The tender process has also enabled us to identify those categories that are in high demand."
The next planned plant upgrade at its Montepuez ruby project will be delayed, reducing expenditures and enabling the company to focus on accumulating more rubies in each of those most desired categories ahead of its next tender, slated for mid-2018.
Around 96,000 tons of existing surface stockpiles of ruby-bearing gravels will be processed in the coming months, while pitting and exploration activities will be focused in areas now identified as hosting the most sought-after rubies, Mustang said.
The company said its bulk sampling to date has only covered a small part of the licensed areas and that it strongly believes there is "considerable potential" to identify additional high-value rubies within its project area. Exploration will focus on areas to the east of the existing bulk sample pits.
Mustang also indicated it plans to acquire rights to explore in additional license areas in the Montepuez ruby field.
News Source: nationaljeweler.com