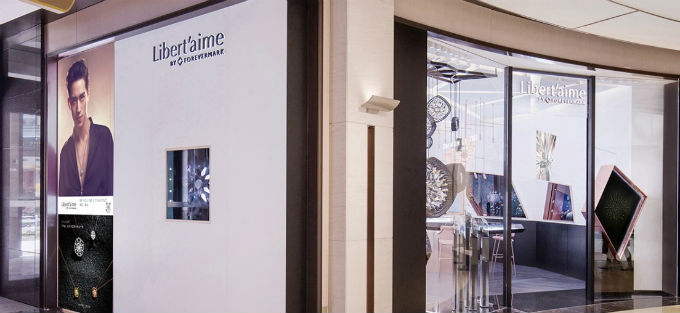 Forevermark, the diamond brand from De Beers Group, is setting its sights on an estimated 420 million millennials in China through a new retail concept.
The diamond jeweller recently launched Libert'aimeTM by Forevermark, a new flagship store at HKRI Taikoo Hui in Shanghai. This is the 1,000th Forevermark store in China, and was unveiled in time for the brand's 10th anniversary in the country.
Created to celebrate a new generation of women who are strong, unique,and authentic, Libert'aimeTM by Forevermark offers a diamond jewellery range that has been designed with a young, fashion-forward, self-purchasing consumer in mind, noted Forevermark.
Pioneering a new retail concept, Libert'aimeTM by Forevermark is designed to appeal to mainland Chinese millennials though an omnichannel model that offers a "contemporary, highly interactive and engaging consumer experience." The omnichannel experience combines the Libert'aimeTM by Forevermark flagship store, online platforms and the launch of a WeChat store on China's leading social media platform.
Stephen Lussier, CEO of Forevermark, commented, "Libert'aimeTM by Forevermark brings together an innovative in-store offering with online and social media channels to provide customers with a highly engaging and personalised buying experience. Forevermark will still continue to focus on its classic bridal and non-bridal collections with our valued Forevermark retail partners, while Libert'aimeTM by Forevermark will concentrate on providing a complementary offer to excite millennials."
News Source : jewellerynet.com