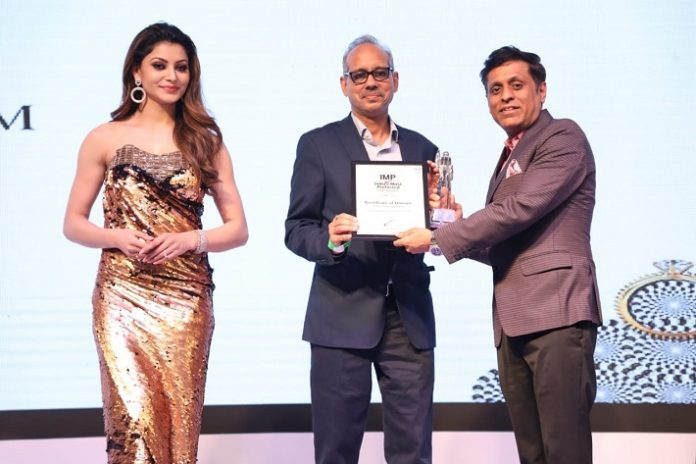 P Mangatram Jewellers, a leading name in the world of studded jewellery has been honored
India's most preferred B2B Jewellers 2018 from Telangana state. Sanjay Gulabani, Director,
P. Mangatram Jewellers received the award at a ceremony held in Mumbai on December 21 st, 2018 organized by UBM India. The conclave was represented by the most distinguished jewelers across India in the B2B domain. The honor was presented to him by noted Bollywood actress Urvashi Rautela.
Sanjay Gulabani, Director, P. Mangatram Jewellers Pvt. Ltd. said, "We are extremely privileged to receive this award on behalf of our entire team. It has been our endeavor to craft meticulous designs with breathtaking innovation that has won laurels from our loyal customer base. We have always remained as the preferred studded jewellery manufacturer for top retailers in India and international markets. This prestigious award is a testimony of our achievements in taking Hyderabad studded jewellery to international standards".
The gemstone studded jewellery market in India has grown exponentially over the years. The industry has seen continuous year on year growth despite volatile gold prices. Taking the view of growing potential in the uncut market and plain gold jewellery P Mangatram Jewellers recently launched two new divisions – Meraki and PureGrams. The company has extensively invested in state-of-art manufacturing facilities that include advanced versions of machinery to give the studded jewellery a soft finish and glittering look.
Besides, serving its clientele with the best ornate pieces P. Mangatram jewelers also understands its responsibility towards the nation and is leaving no stone unturned to preserve its rich heritage. The brand has taken an initiative to preserve the oldest art form of handmade jewellery. The creations are painstakingly designed for creating unmatched quality designs with the minutest attention to every detail. The company is also credited with breathtaking innovation of creating the world's lightest necklace weighing just 3.5 grams.
P Mangatram Jewelers Pvt Ltd primarily exports its precious and semi-precious studded
jewellery largely to UAE & USA. The company is growing at 50% annually and aims to achieve a turnover of 1,000 crores in the next two years.