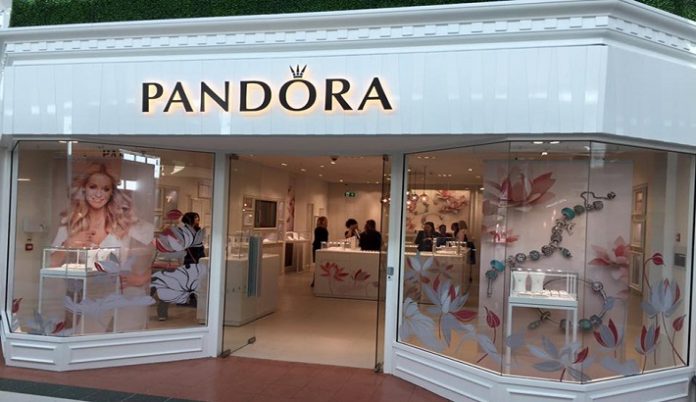 Pandora, which has been in the process of transforming itself for some time now, recently unveiled its new visual identity, store design, products, and collaborations. In the offing are also new celebrity endorsements; as well as new online stores and "refreshing" its presence on marketplaces such as Tmall.
The brand relaunch, which will see "the company refreshes all consumer touchpoints to increase brand relevance", is set to be "the largest marketing investment in the company's history", Pandora said.
"Since the launch of the Moments platform in the year 2000, Pandora has built the best-known jewellery brand in the world by allowing consumers to emotionally connect with their jewellery through co-creation and self-expression," says CEO Alexander Lasik. "Today we strengthen this core proposition with a complete renewal of our entire consumer experience."
The brand relaunch was unveiled a few days ago at a VIP event in Los Angeles attended by 400 international guests.
On the occasion, Pandora introduced a new company purpose, "We give a voice to people's loves – Passions, People & Places"; and an updated logo and monogram. "The new visual identity will appear across all Pandora channels, as well as advertising campaigns together with Pandora's updated nomenclature in a fresh, modern tone," Pandora revealed. "The company has also adopted the color pink as its new main marker and recognizable statement across all consumer touchpoints."
Talking about the main highlights of the changes in key areas, Pandora said that one of the cornerstones of the brand relaunch is a new store design called "Expression" that builds on discovery and collecting. The new store concept will roll-out gradually in 2019, "with a number of fully refurbished key stores", the Company announced.
Also, Pandora's 20 online stores adopted the new visual identity from the day of the launch "with significantly improved listing and product pages that optimize navigation and check-out flow". The new online stores also have cleaner visuals, better product imagery while blending story-telling and transactional content.
Pandora announced new long-term partnerships with six well-known global influencers, "chosen for their relevance to the core Pandora audience"; they are Nathalie Emmanuel, Georgia May Jagger, Halima Aden, Larsen Thompson, Margaret Zhang, and Tasya van Ree.
Earlier, Pandora had announced that it had partnered with Millie Bobby Brown, two-time Emmy nominee, and UNICEF's youngest-ever Goodwill Ambassador, to be the face of and "to specifically support the launch in October of Pandora Me, a new collection developed with a younger audience in mind".
Pandora also plans to launch products in collaborations with Harry Potter and Frozen II, later this year.
"A number of products will hit the market in conjunction with the brand relaunch," Pandora announced.
The Autumn/Winter 2019 collection which was launched globally in conjunction with the brand unveiling is the largest collection this year with 121 different designs spanning all product categories.
New Source : gjepc