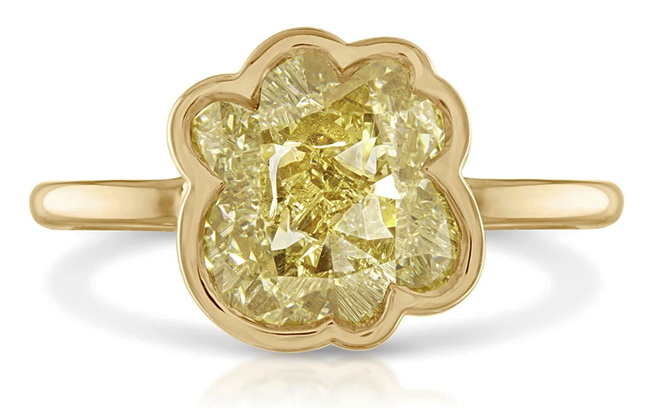 Jeweler Stephanie Gottlieb has created a one-off popcorn-shaped diamond engagement ring.
The 3.66-carat VVS-clarity natural stone was specially cut from an 11-carat rough diamond and set in simple yellow gold "bathtub bezel".
It is designed to intensify the hue of the stone, which has been graded as Y-Z – near to fancy yellow on the official GIA color scale.
"The idea was to create a ring that was perfect for popping the question, so designing this popcorn-cut diamond ring fit hand-in-hand with our love of creating beautiful designs for that special day," said Gottliebb, who founded the US-based fine jewelry company that bears her name in 2013.
She's cut unusual diamond shapes before, ranging from dogs to horses.
Gottliebb created the ring in partnership with the Boomchickapop popcorn brand and is advertising it for sale online, priced at $50,000.