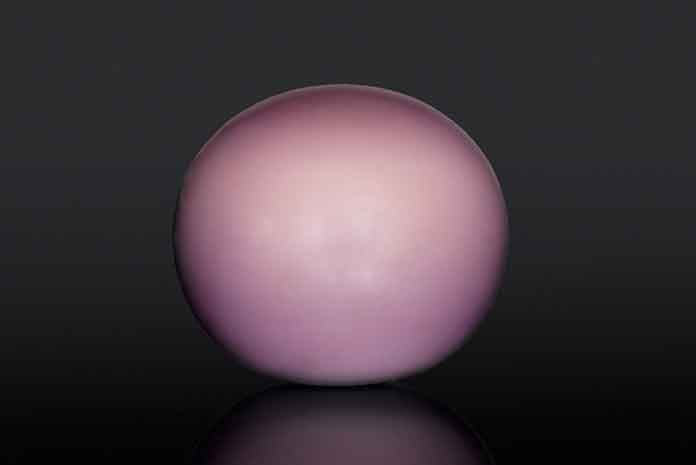 Los Angeles–A rare and very large purple non-nacreous Quahog pearl found by a man shucking oysters for dinner will highlight Bonhams Lapidary Works of Art, Gemstones and Minerals auction on Wednesday.
At 16.64 carats, the gemstone is believed to be the largest Quahog pearl ever offered at public auction, according to Bonhams. The pearl has a near-spherical to button shape, displays a rich lavender hue and excellent porcelaneous luster.
It's slated to sell for between $25,000 and $30,000 in Los Angeles on Wednesday.
A man from Boston found the pearl when he was shucking Little Neck clams for dinner that he had purchased for $25.
Rather than coming from an oyster, Quahog pearls come from thick-shelled North American "chowder" clams.
It's estimated that only one in 100,000 Quahog clams actually produce a pearl of any kind and when they do, most are too unattractive to be used in jewelry. Very few have ever come up in public auction.
In an issue of Gems & Gemology, Gemological Institute of America staff gemologist Joyce Wing Yan Ho said, "This Quahog pearl's large size, clean surface, fabulous luster, near-round shape and evenly distributed rich color combine to make it an exceptionally fine and rare example of its type."
Other highlights of the Bonhams sale include one of the largest tanzanite crystals in existence. Coming from the Merelani Hills in Tanzania, it is almost 7.5 inches high and weighs 4,015 carats.
This 75.43-carat yellow star sapphire from Sri Lanka is estimated to sell for $60,000 to $80,000.
This tanzanite crystal is one of the biggest ever offered at public auction, Bonhams said. At 4,015 carats, the specimen is expected to fetch between $200,000 and $300,000
This floral gemstone carving depicting poppies rendered in a number of gemstones could go for between $40,000 and $60,000.
Very few large tanzanite mineral specimens make their way into the collector market, Bonhams noted, as the majority of such crystals recovered are cut into valuable faceted gemstones.
The sale also includes a flower study gemstone carving depicting poppies in full bloom, realistically rendered in red chalcedony, nephrite, black diamonds, rock crystal and 18-karat yellow gold.
There also are a number of phenomenal stones in the sale, including a rare, large yellow star sapphire weighing 75.43 carats from the alluvial gem gravels of Sri Lanka. The stone displays a strong central star effect and a medium yellow hue, according to Bonhams.
News Source : nationaljeweler.com